Pogoplug Software Turns Your Computers Into Cloud Storage Hubs (Early Access)
Pogoplug is updating their service to turn your computer into your own personal cloud storage hub essentially eliminating the need for one of the company's Pogoplug hardware devices, although it will work with those devices too.
Here are 9 cool new features that make Pogoplug a suitable replacement for Amazon Cloud Drive and Cloud Player, Google Music or Apple's Music Match and syncing and backup services like Dropbox or SugarSync.
Giveaway:
Pogoplug has given us free access to the premium version of their service for the first 100 readers who go to Pogoplug and sign up. This is a $29 value and gives you all of the cool features below including the ability to stream your videos and audio files stored on any of your computers to any Internet enabled device. See feature numbers three and eight below for a description.
1. Simple Web Access to Files Stored On Your Computers
Like the old Pogoplug hardware, which was an external box plugged into your computer's network and had USB ports for you to connect hard drives, the new service serves up all the files you want to give it access to. This time the files reside on your computer's local hard drive instead of an extra external device.
There is a simple application that you download and install and it runs in the background. Configure it to share your documents, media folders, and your desktop. You can add other folders on your local hard drive and they will all be accessible through the My Pogoplug Website. You can also choose not to share any of these folders.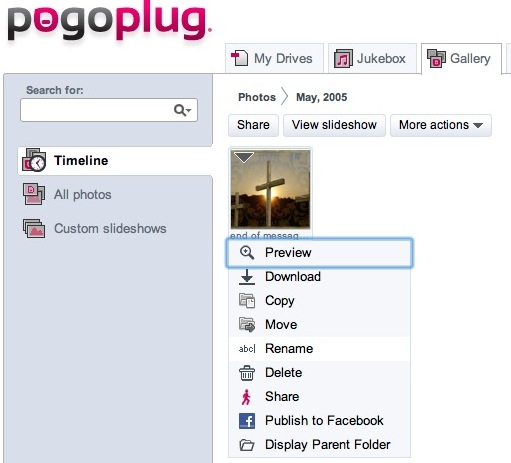 Above you will see an example of what you can do with a picture file in one of the shared folder. You can download it to any other Internet-connected computer through the website.
2. "OneView" and "De-duplication"
OneView will take all the files from all of your computers and Pogoplug devices and present them through the web interface as if they are all in one place. It means that you don't have to remember which device holds that PowerPoint presentation you need for your sales meeting or class. You also don't have to organize all your music, videos and pictures into one location. Pogoplug does it for you.
If you have three different copies of the latest Lady Gaga album on three different computers, they won't show up in the list three times. Pogoplug lists the files one time no matter how many copies it finds on your various computers, devices or folders. This is called de-duplication and it simplifies your file and folder lists on the website.
3. Streaming Music, Video and Pictures to Computers, iPad and iPhone
With services like Google Music, Amazon Cloud Drive and Player and now Apple's iCloud service, storing and streaming media in the cloud is all the rage. Pogoplug has them all beat. Here's why.
You don't have to upload anything – it just takes the files from your hard drives or Pogoplug drives
De-duplication makes multiple copies look like one copy
If you have a small hard drive on one PC, so long as you have Internet access, it will feel like you have a huge drive
Other cloud storage services limit your storage amount, but Pogoplug is only limited by the size of your hard drive and the speed of your Internet connection so you can have multiple Terabytes of files available anywhere there is Internet access
The service is free if you just want access to your files and only has a fee if you want to be able to stream audio and video
You can share any size file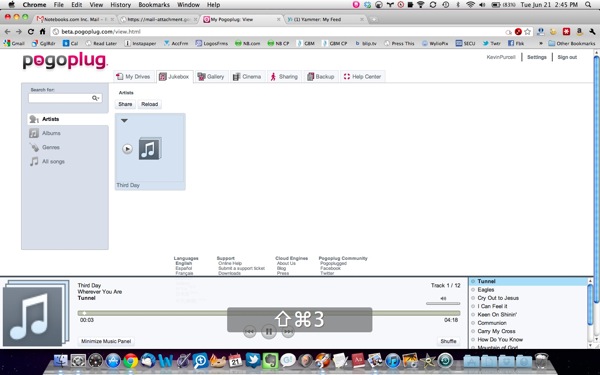 Using a browser or one of the mobile apps (see below) you can stream your music, video or photos. It is easy and works on any browser. Remember that using the service for streaming of video or audio files costs a one time fee of $29.
Pogoplug handles just about any kind of file format or video/audio codec you throw at it. Unfortunately, as you would expect, DRM-locked files are not compatible.
4. Active Copy for Syncing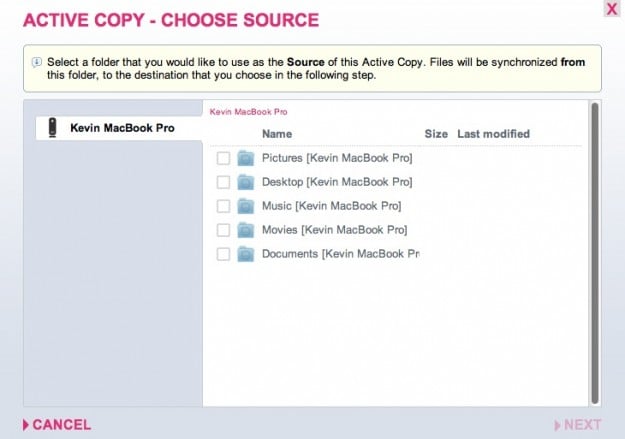 The Active Copy service will back up the folders or files you select and sync them to the folders you choose on your other devices. For this to work you will have to have more than one computer or a computer and a Pogoplug. Since most people have more than one computer or at least have a friend or family member with another computer, everyone can have their files synced for backup and access in multiple locations. In the client software you point one folder on one computer to the folder on the other computer or device where you want the files to be automatically synced.
5. Sharing Folders and Files with Friends or Family
If you have a folder of family photos that you want everyone in your family to be able to see, you can configure the service to share your photos folder. The web interface will provide a link to send through the built-in email function (see image below).
The service will share files through Facebook, Twitter, MySpace, an RSS feed link, or just a plain link that you can then copy to anywhere like your blog or website.
6. Cloud Printing
I was critical of the newly added printing feature when I reviewed the Pogoplug device for Notebooks.com. It was limited to certain brands of printers and in my experience was buggy. However, with the new Pogoplug software based service you can print to any printer connected to a computer with the Pogoplug software installed. It works with printers directly connected via USB or printers the computer access through sharing on a network. So long as the printer's driver is properly configured, it will work. Finally, you have remote printing to any brand printer from the iPad through Pogoplug's software.
7. Updated Mobile Apps
Along with their website and service, Pogoplug also rewrote their iOS apps. Thanks to the OneView and De-duplication you open the Pogoplug app on your iPad or iPhone and it shows you all of the files you have on all of your drives with each file only listed once no matter how many copies you have. This will be really beneficial to people with large music collections but limited space on an 8GB iPhone or 16GB iPad loaded with apps. You can stream Gigabytes of data so long as you have paid for the premium service and have a decent Internet connection.
At this time the Android app is a still a generation behind the iOS apps, but the team at Pogoplug is hard at work updating the Android app so that they will have all the new features the new iOS apps have. The Android still gives you access to files on your Pogoplug device, but isn't going to be compatible with the new Pogoplug software service on your computer until they finish the update.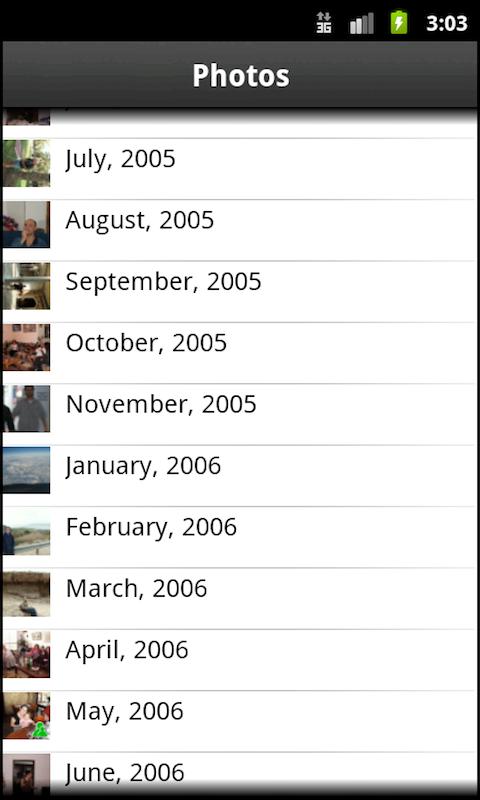 I asked if they had plans for other platforms Windows Phone 7, HP WebOS, or Blackberry. They are still considering it and will choose depending ont he future success of those platforms.
8. Freemium Service
The basic Pogoplug service is free. You don't have to have a Pogoplug device to use it. All you need is the client software and a free account. The only reason you ever have to pay for the service is if you want to be able to use the media streaming. Documents and pictures are free and downloading music and videos is free, but streaming audio or videos will cost you a one time fee of $29. That's not $29 per year but $29 once and you are done paying.
9. Updated Client Application
The new client app that makes it all work runs in the background with an icon in the Windows System Tray in the lower right corner or on your Mac OS X Menu Bar in the upper right. The icon serves as a dropdown menu giving access to things like:
Signing in and out of the service
Web access to My Pogoplug
Help information
The version number
Software updates
Refreshing the drives shared with Pogoplug
Preferences
Shutting down the client software

As an Amazon Associate I earn from qualifying purchases.