Polaroid to Enter Interchangeable Lens Camera Market With Android Offering
It looks like Polaroid, a company known for its instant photo film, will be diving straight into the digital age and differentiate itself from larger rivals by showcasing a camera with interchangeable lenses (ILC) with Android under the hood in January at the Consumer Electronics Show. At CES 2012, Polaroid became one of the first, if not the first, to showcase a compact point and shoot camera with Android and the new compact system camera offering with swappable lenses would be a marked improvement that would help the company target enthusiast and prosumer photographers.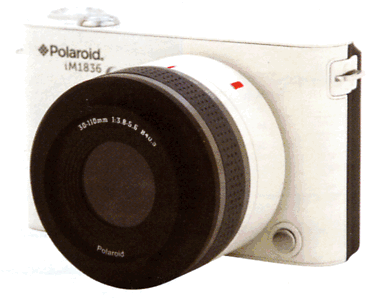 Unfortunately, though, Polaroid's CES 2012 Android point and shoot didn't materialize to much and essentially became vaporware in the U.S. Nikon, and later Samsung, gained more traction with the former lending its name to its brand of Android point and shoots, and the latter generating a huge marketing buzz behind the Galaxy Camera moniker. Hopefully, Polaroid will be able to not only announce a product, but deliver it to market.
Information about Polaroid's offerings were leaked by Photorumors and also via a Russian networking site. Based on the physical design, many on the Internet are claiming that Polaroid's rumored release shares many similarities with Nikon's 1 J2 system. Nikon's interchangeable lens compact uses a 1-inch sensor made by Sony and offers a similar 30-110 mm lens that is showcased on the photo that the Polaroid model is using.
And tapping into Nikon's lens system wouldn't be a bad idea as Polaroid doesn't have a lens ecosystem yet and Nikon will grow its lens collection for the 1 series.
The device is said to be running Android 4 and will feature a more compact 3.5-inch touchscreen than the Galaxy Camera's 4.8-inch LCD panel, and will have an 18.1-megapixel sensor that's up from the 10-megapixel sensor on Nikon's 1 J 2. It looks like there is pop-up flash on board, though professionals may likely balk at the fact that this model is depicted without a viewfinder of some sort.
The device will use a micro SD, rather than a traditional SD, card for memory, which could mean that it won't be able as many burst shots as competing models with faster SD card slots.
The compact system camera (CSC) or interchangeable lens camera (ILC) market to which this Polaroid shooter belongs to provides an attractive option for those who like DSLR-quality images without the bulk of heavier equipments and larger, chunkier lenses. What these cameras sacrifice in sensor size they make up in portability, and for the most part you still get the nice blurry de-focused background, called bokeh, with a faster lens.