Porsche Design BlackBerry Q10: Two Wrongs Make One Hot Mess
Porsche Design may be turning to smartphone partner BlackBerry once again to release a luxury smartphone based on the BlackBerry 10 operating system and with a keyboard in similar style to the consumer BlackBerry Q10, but can the partnership turn a success for the struggling Canadian smartphone-maker?
This would be the second of such collaboration in recent history. The first was when Porsche Design turned the BlackBerry Bold 9900's design into its own with angular keys and sides with a metal and leather-based design that some had remarked as the "ugliest BlackBerry" ever built. That device went by the code name of BlackBerry Knight and was later launched as the Porsche Design P'9981, an uninspiring and utterly forgettable name unlike the Bold moniker that its prettier twin beheld.
Now, moving away from the BlackBerry Bold, RIM, which had changed its corporate name to BlackBerry, has launched a new BlackBerry 10 platform and a new BlackBerry Q10 smartphone with a keyboard. It looks like the Q10 may be the inspiration for the new Porsche Design collaboration from the appearance of the rear back battery cover we're seeing in a leaked photo.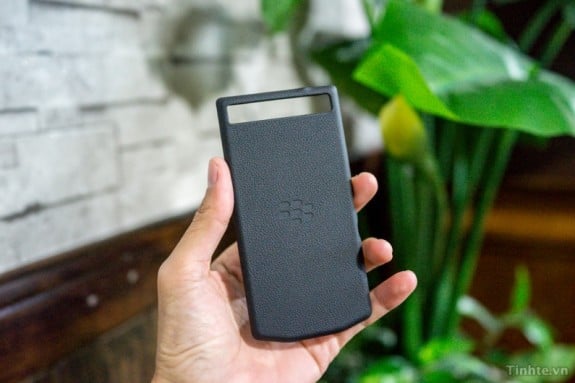 Recently, CrackBerry reported that a leaked rear battery cover was spotted, with similar leather texturing and angular edges as the styling on the P'9981, leading us to believe that the two partners may be back at it again.
The move may be risky for both parties. Declining market share for BlackBerry worldwide makes this a bold attempt to resurrect the brand amidst strong competition from Android, iOS, and even emerging Windows Phone in the smartphone space. A premium price may make the product appealing in markets where luxury is favored, such as in select Middle Eastern and Asian countries, but the tech appeal may not be there.
First Strike: Usability
With the BlackBerry Q10, BlackBerry had focused its energy on creating a touchscreen smartphone experience. The result means that the BlackBerry navigation keys as well as the BlackBerry trackpad were all removed. These were all part of the hallmarked BlackBerry user experience in the past that brought simplicity to the platform when coupled with a keyboard. Shortcuts, quickly scrolling without moving your hands too far away from the keyboard, and a category-defining keyboard helped to create loyalists. With many shortcuts removed from the BlackBerry 10 OS and the BlackBerry navigation keys and trackpad gone, there may be little left that makes the BlackBerry a fast, easy to use emailing machine.
And that's just the core of it. When you take a look at the polarizing Porsche Design P'9981 we're getting a device that many in the general public may find unappealing. Couple that with a luxury price tag–the P'9981 launched for around $2,000 while the Bold 9900 sold for around $600 without a contract–this device may be a hard sell considering you can still get an attractive smartphone for less from Apple, HTC, or even Samsung.
Second Strike: Design
Not only had BlackBerry made a wrong turn by eschewing quick navigation keys and a trackpad, but a repeated partnership with Porsche Design may not help the brand much either. But even as Porsche Design may not move that many Q10-cloned phones, at least this will still help BlackBerry and won't hurt its waning market share.

This article may contain affiliate links. Click here for more details.