PowerSkin Pop'n Battery for iPhone 5 Works with Most 3rd Party Cases
PowerSkin Pop'n battery for the Apple iPhone 5 solves one of the problems found in many external battery cases: it can attach to an iPhone 5 housed in another third-party case. The user doesn't need to remove their favorite case to use it. As a result, one can keep the Pop'n handy and attach it only when the battery starts to run out. Thanks to interchangeable connectors it also works with older iPhone 4/4S and Android phones.
PowerSkins Pop'n battery comes with either the new Lightning adapter for the iPhone 5 or an Android-compatible micro-USB connector. The interchangeable tip will also make it useable with other phones, like the iPhone 4/4S and other smartphones that use a micro-USB charging port. Those who plan to upgrade a single phone to a new one when a new model releases will find it useful as well, as they don't have to get a new battery case after upgrading.
https://youtu.be/pZer8y_13Y4
The suction cups on one side of the battery attach to the smooth back of any phone or case to keep the battery in place. Overly thick cases or cases with very smooth surfaces on the back may not work with this external battery, however. PowerSkin covered the battery with a strong glossy casing that cames in black or white. The power connector flexes up to 90 degrees to make it work on many phones or cases with varied thickness. The battery measures 10mm thick and weighs 86 grams.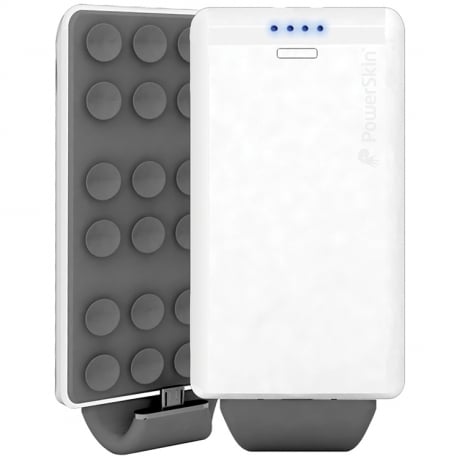 The 2,000 mAh will add about 70 percent more battery life, according to the company. Depending on the built-in battery of the phone.
The model with a micro-USB connector costs $69.99. The Lightning version adds $10. They plan to offer red and pink versions soon. Get them at PowerSkin.com. We couldn't find it on Amazon, but other PowerSkin products are up there, so check back over the next few weeks and it may become available there too.
The 30-pin connector and the micro-USB B connectors that older smartphones used aren't yet available.

As an Amazon Associate I earn from qualifying purchases.