PS4 Deals December: Free Games & Big Savings
December is a great time to buy a PS4, and while you won't find huge trade in bonuses for an old console, there are a lot of PS4 deals that include over $100 in free games or accessories. This includes PS4 games you'll actually want to play, like The Last of Us Remastered, GTA 5 for PS4 and other kid-friendly options.
We'll also show you where you can buy a used PS4 for $265 if you need to save big on the up front cost of buying a new PS4. This is the lowest price you'll find for a PS4 up front, but for some shoppers a new PS4 with multiple games and a free PS4 Camera is a better deal.
Read: PS4 Review
Some of these December PS4 deals beat what we saw on Black Friday, and most of them are available online or in stores so you can shop however is easiest for you.
After a year, there are already a number of great PS4 games you can buy right now to build your library, and you don't need to spend $60 for many of the games. There are also a lot of PS4 game deals on hits like Madden 15, FIFA 15 and Destiny to help you build up your gaming library.
There are no PS3 trade in bonus or Xbox 360 trade in bonus offers towards the PS4 yet, but you may find one sometime during the month.
PS4 Deals December
You can't drop the price of a new PS4 in December, but you will find deals that save $100 or more with free games and accessories. The up front price is normally $399 and you won't find a discount on a new PS4 this month at most retailers. You will likely see these December PS4 deals end quickly as retailer sell through the bundles, so don't wait for the last-minute.
The PS4 Black Friday Bundle is still on sale at Best Buy and GameStop which includes a PS4, The Last of Us Remastered (digital) and GTA 5 plus the single controller that comes with the game. This bundle is $399, the same price as a new PS4 without a bundle. If you want to buy a PS4, this is the one you should buy, even if you plan to trade or sell the games.
When you buy this PS4 bundle at GameStop online, you also get a free PS4 Camera. This includes some voice control options, the ability to scan your face into NBA 2K15 and acts as a controller for some games. It may not be worth paying for these features, but when it is included as a free option it is certainly something you don't want to pass up.
If you are looking for a PS4 deal that is more geared towards kids, Walmart offers the PS4 with Lego Batman 3: Beyond Gotham and LittleBigPlanet 3 for $399. This is available online but there is an in store pickup option available. This includes a single controller.
Used PS4 Deals
For gamers on a budget, you can buy a used PS4 from CowBoom for $265.99. This is a well-known reseller of used systems, so you can trust their pricing and ratings.
You'll want to search through the various used PS4 listings to find one that includes a controller and the cables you need to connect to your HDTV. Most of the consoles include cometic damage from scratches. A new PS4 tends to show scratches on the glossy part after a month of use anyway, so you can always buy a skin like those featured in our holiday gift guide to cover up the scratches.
Read: 15 Exciting PS4 Games for 2014
Check out the most exciting PS4 games for 2015 listed below. This will give you an idea of what games you can look forward to seeing on shelves next year.
15 Exciting 2015 PS4 Games
MLB 15 The Show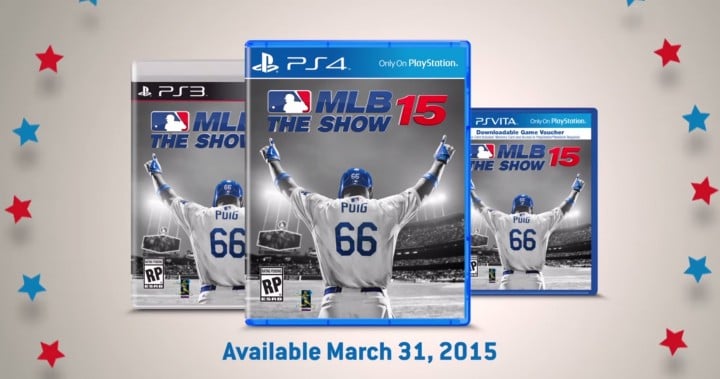 MLB 15 The Show Release Date - March 31st Confirmed
Sony is the undisputed king of baseball games with MLB The Show and we know that MLB 15 The Show is coming in early 2015. Sony just shared five key details about MLB 15 the Show and gamers are excited.
MLB 15 The Show is a PlayStation Exclusive, that is coming to the PS4, PS3 and PS Vita. There is a chance that this will be one of the first big hits among the 2015 PS4 game releases. I
Watch the MLB 15 The Show teaser video above for a glimpse at what's new.