Publish Sync Posts to Google+ Facebook and Twitter From One Place
If you are a Google+ user who wants to put your posts there and on Twitter and/or Facebook, the tool for you is Publish Sync: a Chrome-only extension. There are not many options for cross-posting your updates to Google+ as well as the other social networking services. This one seems to do the job. You will only be able to use it in Google's Chrome web browser, however.
You can download the extension from the Chrome web store and install it in your browser. It places an icon in the toolbar that looks like a vine with two leaves. Click on the icon and it provides four services, which can accept Publish Sync content – Facebook, Google+, Twitter and the lesser known Plurk (see image below). At the bottom of the drop down box are buttons for sharing the page you are currently viewing in the browser. You can share a link or Like it on Facebook or give it a +1 on Google+, which is the equivalent of a Facebook Like. You can also invite other Facebook friends to use the extension.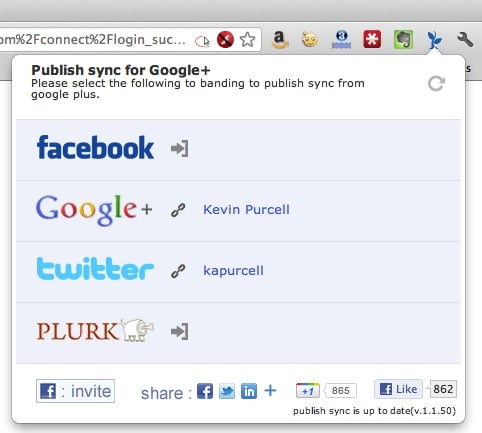 Set up the app by clicking on one of the four service buttons. You will either log into that service and authorize the app, or if already logged in, just allow Publish Sync access to your account by authorizing it. Then go to one of the services and type in an update you want posted. You will see below the box where you add the update check boxes for the other services. Select the ones you want to cross-post the update to and it sends them on to that service when you send out the post. Below is an example of how it looks on the Twitter site.
At the time I wrote this the Facebook integration was not working. I clicked on Facebook and the link opened a tab that said, "Please try again later." I'm guessing it is either blocked or overloaded right now. Hopefully the developer will get this fixed or traffic will slow down making it possible again.
It would be nice if this extension allowed me to type a post in the address bar and click the button to cross-post to all the selected services. Other Twitter Chrome extensions let you do this so I know it is possible. I'd also like to be able to select some text on a web page and right-click it to post the text. This is also possible since Twitter's Mac app adds this functionality not only to Chrome, but Safari and Firefox as well.