Pushing Apple Customers to the Surface, Microsoft Offers iPad Trade-In Incentives
Ahead of Apple's fall debut of its new tablet lineup, which will include the rumored iPad 5 and a Retina Display-powered iPad mini 2, rival Microsoft is now offering Apple's iPad users incentives to trade in their tablets for a Windows-powered Surface tablet. In an email promotion to customers, Microsoft alerted shoppers that they would receive at least $200 to trade-in their iPad 2, iPad 3, or iPad 4 tablets that are in good condition.
The trade-in offer does not include the original iPad nor the iPad mini. The money, according to Microsoft's email, could be used towards the purchase of a new Surface tablet.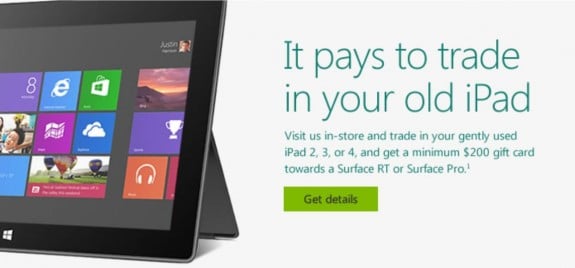 Currently, Microsoft offers two different versions of the Surface. At the base is the Surface RT, an ARM-powered tablet that runs the Windows RT operating system. This model includes free Microsoft Office and starts at $350. The Surface Pro is powered by a third-generation Intel processor and runs Windows 8 Pro, which means that the more powerful and expensive Surface Pro will run all programs and apps designed for Windows and not be limited to just the Metro apps that Surface RT is limited by. The Surface Pro starts at $800 for the 64 GB edition. Keyboard covers are extra and neither Surface versions are available with 4G LTE networking.
And while Microsoft may be wooing Apple customers to its tablets by offering an easy trade-in incentives once they bring their old iPad to a Microsoft Store, Microsoft may also be trying to move its own inventory ahead of its tablet refresh this fall as well. A new Surface 2 and a Surface Pro 2 are rumored to be arriving this fall alongside the launch of Windows 8.1. Both devices will have an improved kickstand and may come with new processors that will give them more power and extend battery life between recharges. The Surface 2, a Windows RT model, is rumored to be sporting an NVIDIA Tegra 4 CPU while Surface Pro 2 is rumored to be rocking a fourth generation Intel Haswell CPU that will give it all-day computing power. Battery life has been a concern for existing Surface Pro users so this should be a welcomed change.
Also, in addition to its own hardware, Microsoft had recently announced plans to acquire Nokia's devices and services division. Nokia itself is also rumored to be working on its own Windows RT-powered tablet. With Nokia under its belt next year when the acquisition closes, Microsoft will be inheriting more hardware under its umbrella.
Microsoft also took a $900 million hit writing down Surface shipments. It's speculated that with Surface RT's initial $500 price tag, the tablet didn't do well and Microsoft had discounted that model to $350. According to retail store associates, the lower price point is helping the company move more tablets than before.