QNX Puts a Giant BlackBerry PlayBook Inside Mercedes CLA45 Concept
At the Consumer Electronics Show, QNX, which is owned by BlackBerry and is the underlying OS in many vehicle infotainment systems today, is showing off a newly appointed Mercedes CLA45 concept car that brings a massive BlackBerry PlayBook to the center dash. A large display that stretches from the edge of the steering wheel on the driver side to the center dash on the passenger side brings additional functionality and usability to the car.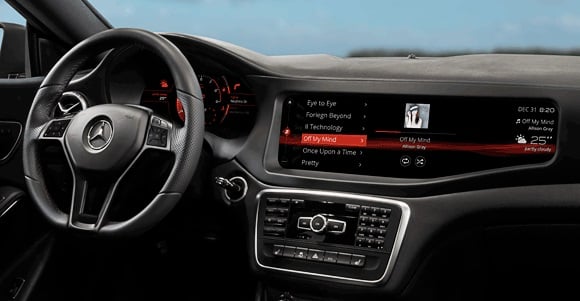 Most notably, like the BlackBerry PlayBook and other new BlackBerry 10 smartphones, the new QNX engine will allow drivers to run Android apps on the center dash. Users can run apps designed for up to Android Jelly Bean, according to the company's press release. QNX is the underlying architecture that the BlackBerry Tablet OS and the BlackBerry 10 OS were built upon.
Automakers want to tap into the talents of the mobile app community, and the QNX CAR Platform for Infotainment helps them do just that, with built-in support for Android, OpenGL ES, and HTML5. In the concept car, for example, you'll find an Android Jellybean version of iHeartRadio, Clear Channel's digital radio service, running in a secure application container. The QNX CAR Platform takes this same sandboxed approach to running HTML5 apps — perfect for protecting both the HMI and the overall system from unpredictable web content:
Additionally, the company says that natural speech recognition from Nuance will also be supported as well as multiple navigation and mapping systems, including those from Nokia HERE, Elektrobit, Kotei Navi & Data, and Aisin AW.
QNX's move to support Android app in the car comes just as rival Google has announced its ambitions to bring Android to the vehicle. Google announced at the show that it would would with partners through the Open Automotive Alliance to bring Android to the dash, which would bring the mobile OS to infotainment system and beyond just smartphones and tablets. Partners for the OAA include Audi and NVIDIA.
And similar to Google's partnership with NVIDIA, QNX chose chip-maker Qualcomm to partner for the car. QNX announced that it would use the graphics capabilities of Qualcomm's Snapdragon 602 to power the vehicle.