Quad-Core Android Meizu MX Smartphone Coming in June With Powerful Specs
The quad-core Meizu MX smartphone is now officially announced to come in June with some lust-worthy specs, most notably the device's 2 GB of RAM, which will aid in performance and multitasking. Additionally, the Meizu MX will match Apple's storage on the top of the line iPhone 4S model with 64 GB of on-board storage for all your digital content.
Beating Samsung's Galaxy S III announcement–which is slated to occur early next month in London–the Meizu MX will rely on Samsung's ARM-based quad-core Exynos A9 processor, which is widely believed to also make an appearance on the Galaxy S III flagship. According to Meizu's press release, the smaller 32 nm architecture of the quad-core Exynos will allow the device to have better battery life and much improved performance, citing 60 and 50 percent in processing and graphics performance increases respectively:
The MX Quad-core uses a power efficient quad-core Exynos A9 CPU with industry-leading 32 nm HKMG technology which has been optimized to reduce CPU power consumption by up to 20%. In addition, it will last even longer with a new 1700mAh battery.

With its state-of-the art hardware, the MEIZU MX Quad-core is better in every way than its predecessor. The MEIZU MX Quad-core CPU is 60% faster, and GPU 50% faster compared to the previous MX. Whether it is browsing through menus, playing the latest games, or watching 1080pvideo, the MX Quad-core easily beats dual-core devices.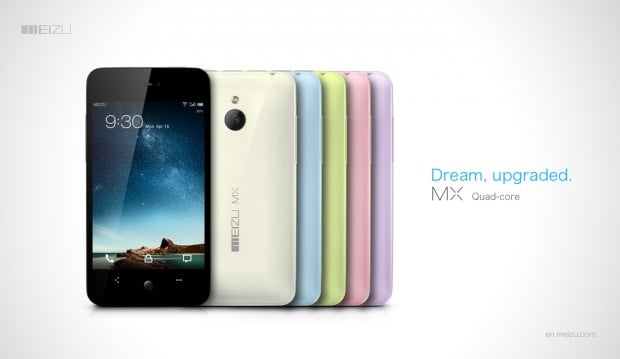 The near-Retina quality Display offers a resolution of 292 pixels-per-inch. The device will also sport an 8-megapixel backside illuminated (BSI) sensor for the camera and will utilize the Flyme OS UI overlay on top of Android 4.0 Ice Cream Sandwich. Users can choose between 32 and 64 GB of on-board storage.
MX Quad-core comes with a vivid 292 PPI high definition ASV display. With no visible pixels on the screen, it provides the user with the ideal smartphone viewing experience. On the back side, the MX Quad-core has an 8 megapixel BSI camera with an f/2.2 lens aperture, capable of taking great photos even in low light conditions. The MX Quad-core will come with MEIZU's unique Flyme OS based on Android 4.0, providing users with beauty, simplicity and buttery smooth performance at every interaction.

The MEIZU MX Quad-core will be available in MEIZU's 400 retail stores during June at ¥2999/3999 CNY and $3099/4099 HKD for capacities 32GB and 64GB in Mainland China and Hong Kong, respectively. With MX Quad-core, the company also releases MX back covers in five colors in addition to the original white, allowing users to experience the MX on their own terms. Coinciding with the announcement of MEIZU MX Quad-core, the MEIZU MX will have its price adjusted to ¥2399 CNY and $2599 HKD in Mainland China and Hong Kong respectively. The reduced price for the MEIZU MX is effective as of April 16, 2012.

As an Amazon Associate I earn from qualifying purchases.