Qualcomm Confirms HTC Sensation's Dual-Core Snapdragon CPU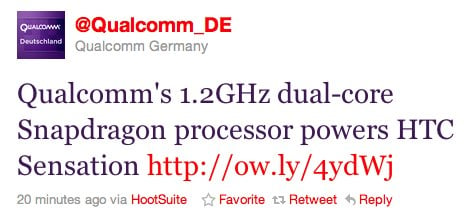 In a tweet, Qualcomm Germany has confirmed the existence of the oft-rumored HTC Sensation Android smartphone, which has also gone by the name HTC Pyramid and is tied with T-Mobile USA in the States. Qualcomm's Twitter message serves to confirm and promote the company's mobile dual-core 1.2 GHz processor that's coming to the HTC smartphone.
HTC is expected to formally and officially announce the HTC Sensation later today, which boasts similar specs to the HTC EVO 3D for Sprint's Now Network, but would eschew the glasses-free qHD 3D display for a more standard 2D qHD high resolution display.
Via: Engadget

As an Amazon Associate I earn from qualifying purchases.