Radio Shack Hints at $50 Google Play Store Gift Card In Addition to $10, $25 Denominations
After it was discovered that a recent update to Google's Android Play Store app was made in preparation for the release of gift cards and wish list capabilities and that retailer Target is beginning to receive inventory of the $10 and $25 denomination of those gift cards, it is now leaked that Radio Shack may also be partnering with Google to offer Play Store cards. Additionally, it looks like in addition to the $10 and $25 values, Radio Shack's computer inventory system is also listing a $50 gift card amount.
An image of the Radio Shack inventory system listing the $50 value was posted on Phandroid. 
Gift cards would be a new option for Google Play customers. In the past, to purchase paid content, including apps, music, books, magazines, movies, and TV shows, customers would need to enter in their credit card information in Google Wallet to initiate payment. With gift cards, Google Play can be extended to reach demographics who may not have access to a credit or debit card, including younger audiences.
Rival Apple had been offering gift cards for its iTunes and App Store for years. The benefit with Apple is that you can find promotions for gift cards, including discounts for as much as 15 to 20 percent when there are sales through major retailers, including Best Buy, Walmart, and Target.
Android Police is reporting that according to Target's internal documents, Play Store gift cards are expected to debut on August 26.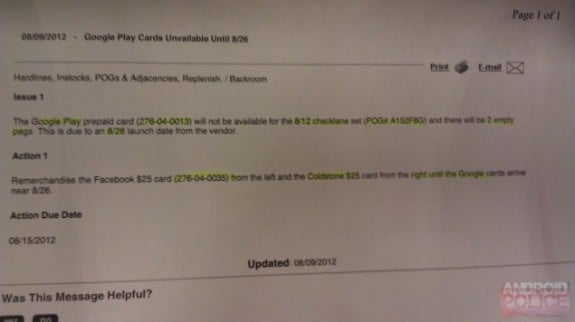 As an Amazon Associate I earn from qualifying purchases.