In recent years most gamers know Ubisoft mostly because of the Assassin's Creed and Just Dance series, but Ubisoft also has a mascot of its own, and now he has his own game on iPhone, iPad, and Android.
Last year Rayman came back to consoles with Rayman Origins, and now he's on mobile platforms in the new Rayman Jungle Run. Jungle Run uses the same art style as the popular Rayman Origins, but is much simpler.
Rayman Jungle Run is a 2D platform that controls like Canabalt, but has finite levels and challenges beyond just running as far as possible. Jungle Run has four basic areas which each introduce new skills for Rayman. The first section has Rayman jumping over obstacles, the second section introduces gliding, the third brings in wall running, and punches arrive in the fourth section.
Each level includes 100 sprites for Rayman to collect, which adds to the difficulty of the game. SImply getting from one point to another isn't too difficult, but collecting the sprites is tough when Rayman is continually running to the goal.
Some levels will require multiple runs just to find the hidden sprites, and Rayman needs to collect every sprite in one run for it to count. Getting all 100 sprites in five levels in each section will unlock a special Land of the Dead level.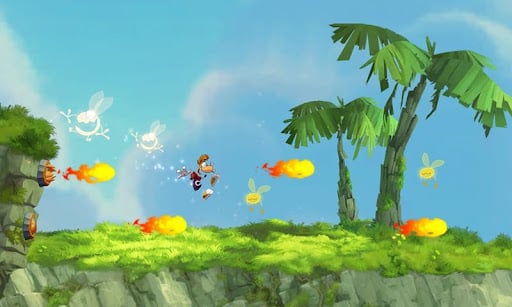 These levels don't have sprites to collect, players simply need to clear them to succeed. The Land of the Dead levels are incredibly difficult. Clearing just one is test of both patience and skill.
With the exception the difficult Land of the Dead levels Rayman Jungle Run isn't too difficult, and is quite fun to play. The art style is unique and fits the game perfectly, as does the music. There are only a few music tracks in the game that loop in each level, but they rarely get annoying.
Rayman Jungle Run is available now for $2.99 in both the iOS App Store and Google Play Store.