Real Racing 3 Coming to iPhone and Android February 28
Real Racing 3, the new racing sim from EA games will come to the iOS App Store, Google Play Store and Amazon Appstore on February 28 according to TouchGen.
The new racing game features a total of 45 real cars for gamers to race as well as a number of real world race tracks with meticulous details to make them look as realistic as possible.
Real Racing 3 boasts some of the most impressive graphics of any mobile games. It is one of the few games for iPhone and Android that has console quality graphics. Console and PC games will still look nicer with more details, but there's no denying that Real Racing 3 looks better than nearly every other game on any mobile platform.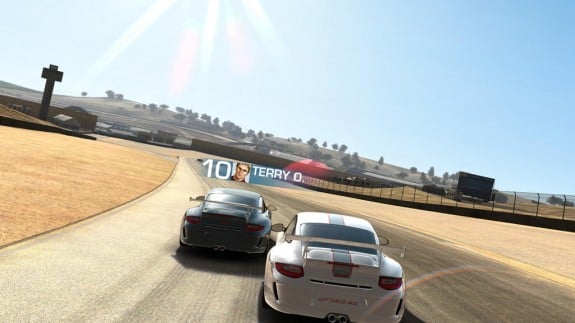 In addition to fantastic graphics and meticulously detailed cars and tracks Real Racing 3 offer a unique multiplayer race option. The game's Time-Shifted Multiplayer lets gamers race against their friends even when they aren't playing.
With Time-Shift Multiplayer once a gamer finishes a race their friends can race against their time at any time. Unlike other racing games where players will race against the ghost of their friend's race, Real Racing 3 actually puts their friend's car in the race. Players can interact with their friend's car, throwing off their time and the game's AI will simulate the friend's racing profile to get it back on track.
Without hands-on time with Real Racing 3 it's impossible to know how well the Firemonkey team achieved everything they wanted to. Based on the high quality of the previous two games, however, it's probably safe to say Real Racing 3 will live up the team's lofty goals.
Gamers have waited patiently for this game for a long time, and that patience will soon pay off. Unfortunately, while EA announced the release date of Real Racing 3, it didn't announce the pricing of the racing sim.