Real Racing 3 Launch Trailer Teases Game Hours Before Release
Tomorrow, February 28, is the official release date of EA's new Real Racing 3, and to celebrate the release EA released on last trailer for the game on GameTrailers.
The Real Racing 3 trailer shows off the beautifully rendered real cars included in the new racing games. The car's aren't as articulately detailed as the cars shown in the Driveclub PlayStation 4 demo, but they're certainly some of the nicest looking cars in any iPhone or iPad game.
The trailer also shows off a number of the real-world tracks included in Real Racing 3. The Firemonkey team made sure to get every detail of every track just right for the game. While it's hard to say if the tracks are perfect, they certainly look great in the trailer.
Finally, the Real Racing 3 trailer shows off the new multiplayer mode which automatically populates races with the times of Game Center friends. Instead of just importing ghosts, however, Real Racing 3 actually imitates the driving style of other racers so players can interact with them to throw off their time. It makes it so gamers can play against their friends even days after their friends raced a particular track.
Real Racing 3 will likely go live in the iOS App Store at 11 p.m. ET tonight. There's a chance EA will choose a specific time for the release, but if it doesn't the game will show up late tonight.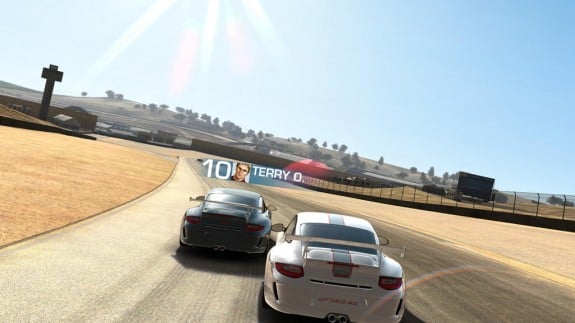 Unlike previous Real Racing games which cost a few dollars at release, Real Racing 3 is free. EA uses a freemium model in the new game, so gamers can play for free, but a number of things in the game will either cost money or time.
For example, gamers will either have to spend in-game currency they buy with real-world money to repair their car after a race, or just wait a few minutes for the repairs. It's a model similar to Tiny Tower and Pocket Planes.
Users may have some problems with the model for the game, but it's hard to say what those problems are until after the official launch either tonight or tomorrow.

As an Amazon Associate I earn from qualifying purchases.