Real User: Industrial Designer and his Gateway M275
Welcome to the first installment of our Real Users series.  I'm always interested in seeing how everyday people are using mobile technology to improve how they work and communicate.
If you're willing to share your story, please contact us through our contact page.
First up in this series is Scott Doty, an industrial designer who uses his Gateway M275 to turn sketches into products you can use around the house.We interviewed Scott by email and he was kind enough to illustrate his workflow.
What kind of work do you?
I am an independent industrial design consultant specializing in making the items we use everyday beautiful and easy to use. I find my tablet PC to be an integral part of the design process. I cut my teeth working at Michael Graves designing products for Target.
What kind of Tablet PC do you use?
Gateway, M275 convertible, running XP.
How did you decide on the M275? Did you compare other models?
I normally research things very thoroughly to get the biggest bang for my buck. Something I always try to provide in the products that I, myself, am designing. In this case, I was advised by a co-worker who builds his desktop PCs from scratch that the Gateway was probably a better fit for my needs than the ones that I was considering. I trusted his judgment and I have no regrets. Four years of use with no major problems is pretty darn good for a computer these days.
What made you switch to a tablet?
I have always had a laptop in addition to a desktop, as it's the easiest way to share my work with clients in person. At the start of 2005, it was time to upgrade my laptop for a faster machine. I figured I may as well pay a bit more and see if using a tablet worked for me.
Has using a Tablet PC changed how you work?
Without a doubt, it has improved my workflow. Colorizing a variety of design ideas at an early stage of the design process both helps me think through design issues myself and share early concepts with clients. I also often use the tablet to integrate photos of real materials into my sketches. This ensures that we are on the same page. Prior to using the tablet, I would more often use CAD generated computer renderings in early design discussions with clients. CAD geometry is significantly more more labor intensive. Additionally, some clients feel more reluctant to suggest changes when they see the more "polished" look of a near photo quality computer rendering. So with more feedback from clients earlier in the process, I now have a smoother overall design process.
I used my tablet in the design of a range of innovative pepper grinders that launched at the International Housewares Show in Chicago this spring.
Do your designer colleagues use tablets or ask you about yours?

At any given corporate or consulting firm, it seems there are always several Wacom tablets floating around. The guy with the golden pencil always seems to have one. When tablets that work well for sketching hit the right price point, I see them being doled out to every young designer at their first job. The faster ideas can be expressed and discussed the better the end product.
What was your workflow like prior to CAD- did you sketch on paper first? Do you still sketch on paper, or is it straight to tablet?

Previous to my generation, early concepts were fleshed out with markers. This process is much more time consuming than the current digital alternatives for most designers. It's also more difficult to do variations.
My work flow before my tablet was often thumbnail sketches in black colored pencil on copy paper to either an illustrator rendering or to CAD and a 3D computer rendering before sharing concepts with a client. I am now frequently able to scan in my thumbnails and airbrush and highlight, apply materials and send off a series of concepts directly to a client. This allows me to get the client involved at a stage where changes are much easier. We can explore a number of directions before getting locked into investing time in CAD.
Is there anything you'd change about your tablet?

I was initially frustrated, as I found I don't like to sketch my initial line work directly on the screen. I like the feel of the tooth of the paper against my col-erase colored pencil. I also don't like that there is a layer of glass between the stylus and the lines that I am drawing on. What I actually use the tablet for is airbrushing in my hand sketches and adding highlights and materials.   [I have heard this is pretty common among designers.]
So, I'm dreaming here, but Ideally the screen would have some sort of tactile feedback and have the pixels be right up on top of the screen with as thin a layer of plastic or glass as possible. Zero lag between what I am drawing and what shows up on the screen would be nice. I have seen some products where you actually draw on paper and what you draw is also captured and displayed on the screen, but that would not really work for me, as I rely on seeing the screen when I am airbrushing in the form and adding materials.
The power cord died twice. It was great that it was under warranty both times, but I would like a more reliable power cord unit.
My next convertible will have the power to run computer rendering software. It runs 3D modeling software fine, but I would like to be able to do final renderings efficiently on it as well. I would guess current generation convertibles should have no problems with 3D studio max and the like.
I am hoping this one holds out for a few years, so I have not been looking. I have read rumors that Mac may be coming out with one in the next few years, which piques my interest, but I'm not going to hold my breath.
The Cintiq 21UX seems to address some of the issues that I have with my convertible, so I would have to compare specialized tablets that hook up to my desktop PC to current generation convertibles and see if it's worth being tied to my desktop. I do love being able to work from my couch some days.
This is how Scott used his tablet to design pepper shakers for a client:
Thumbnail sketch is scanned into the computer
Sketch is ""airbrushed" in Photoshop
Highlights added
Logoplate added
This quick concept sketch is shown to the client, Fresco.
Fresco has a very enthusiastic reaction and we move on to the next phase.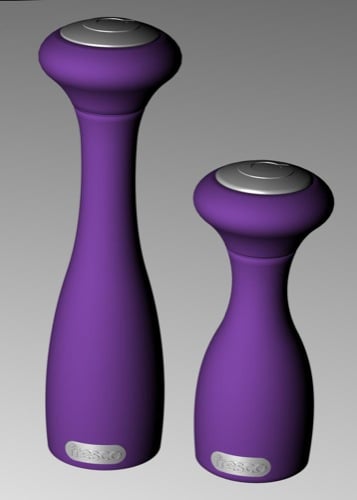 Fresco provides me with their new logo that is integrated into the design in this 3D computer rendering.
This is significantly more time consuming than airbrushing a hand sketch, even for relatively simple products.
We eventually move away from the metal logo plates shown here for cost reasons.
3d Zcorp prints are created from my data and these are tested.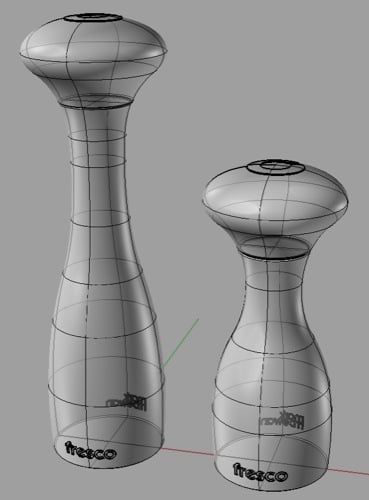 Final CAD data of both sizes is prepared for the factory.
The final 10" pepper grinder seen here in white.
Both sizes were launched by my client, Fresco, at the International Housewares Show in Chicago this spring.
They will be available at major retailers this summer.
Please see www.scott-doty.com for more info this summer.

This article may contain affiliate links. Click here for more details.