Earth Day 2012: Recycle Your Mobile Tech, Batteries and Other Electronics
Today is Earth Day, the time of year when many people pause and take a moment to think about the environment. It also coincides with the time of year people begin doing some spring cleaning and re-evaluate if they really need that 10 year old computer, 3 year old cell phone or 5 year old eReader.
Once you decide to get rid of your old tech, don't just throw it in the trash. That not only harms the environment — think leaking batteries and corrupted metals — but also robs the device of a second life. Yes, even your old stuff may yet be useful.
Instead of trashing electronics, recycle them. You might even get a little bit of money for your trouble or even do some good.
Related: What Happens to Recycled Gadgets, Monitors and Computers (video)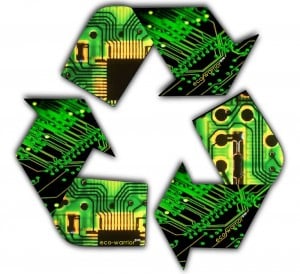 Those of you who've contemplated selling your old iPhone or iPad are probably familiar with trade-in sites that will take your old device for money. Most of them will take more than just Apple devices, most concentrate on small mobile electronics.
Gazelle, Nextworth, Amazon and eBay are some of the biggest names in trade-in. You can also compare offers from multiple sites via USell.com.
Read: Trade-In Wars — eBay Instant Sale vs. Gazelle vs. Nextworth vs. Amazon
Good trade-in sites will pay for shipping, so all you have to do is find a box to send in your device and schedule a pick-up, if available. Some will also take devices even if they have no trade-in value in order to recycle them safely. eBay is great for this.
Many major electronics chains and Goodwill stores do on-site electronics recycling. They'll take whole devices or just cables, peripherals or batteries. In these cases you may not get any money, but your stuff won't just end up in a landfill.
Visit Earth911.com to find a recycling center near you.

As an Amazon Associate I earn from qualifying purchases.