Red Nexus 5 All but Confirmed
Last week rumors started whirling after a few reports suggested Google was looking to match Motorola's customization options with the Moto X. Offering multiple different color options for the flagship Nexus 5 from the Google Play Store.
Starting with a new bright red color option for the Nexus 5 in February, followed by Yellow and possibly 6-7 others. After a leaked photo that was likely fake, today we're getting more evidence that Google will be launching a red Nexus 5 just in time for Valentine's Day. Courtesy of a slew of pictures from Twitter, it looks like LG warehouses are preparing to ship boxes and boxes of the new red Nexus 5 variant.
Google's traditionally only offered black and white colors for its phones, with white coming at a later date for both the Nexus 4 and Nexus 7. However, the Nexus 5 launched with both colors which has fueled these fires for more than a few months, and now everything may finally be coming together. And no, this isn't a Verizon Nexus 5. Sorry guys.
The leak above reportedly confirms the red Nexus 5, but we've also heard reports of yellow, which could then be followed with multiple other colors. The Nexus 5 bumper cases have been popular, and we may see all those colors come to the actual phone, rather than in cases, but so far the details are still very light.
Read: Best Nexus 5 Cases
One thing worth mentioning regarding the leaked images shown above and below is the color extending onto the sides of the device. The white Nexus 5 is black all around, with only the very back (and speaker grill) being white. Here though, the red extends to the sides, which could mean these are fake, or Google's changing things up a bit.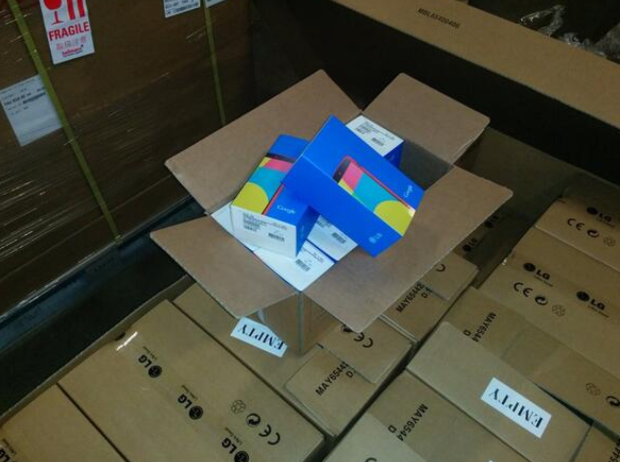 There's not too many other details to go on at this point. Aside from the slew of leaks and rumors last week and now these legit looking photos. If Google does plan to sell the new Red Nexus 5 they may want to release it within the first few days of February. Allowing potential buyers to grab one in time to arrive before February 14th. A holiday usually filled with Red and Pink colors for Valentine's Day.
Read: Nexus 5 Setup Guide for Beginners
If these photos are indeed real we can expect a release date on the Google Play Store anytime now, as the device looks ready to sell and ship based on these images. We're also assuming the price will remain the same, but again, Google's yet to reveal any details. If you do decide to grab one, be sure to check out our Nexus 5 Review for more details.