Red Pop Brings Back the Shutter Button for iPhone Photographers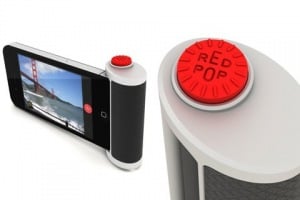 As a person who regularly carries a Nokia N8 to replace a standalone digital camera, my biggest complaint with many smartphones–including Apple's iconic iPhone 4–is that many of these devices aren't catered to taking quick, instant photos on the go by the mere fact that they lack a hardware shutter button. When you have to flip through pages of apps to launch the camera app by tapping on the camera icon, the moment may be gone and the memory of your child's first steps, for example, may be lost in the shuffle of trying to launch that camera. Fortunately, a few manufacturers still offer a dedicated camera button, like Nokia and HTC on the EVO 3D.
However, for iPhone owners, you can get your very own camera button and shatter Steve Jobs' vision for a clean, minimalist design that's completely operated by the touchscreen, except for the homescreen, power, and volume buttons. With funding through crowdsourced Kickstarter, Beep Industries is launching its Red Pop accessory to help more avid iPhone photographers be able to capture the best shot quickly without having to always rely on the touchscreen shutter button.
Red Pop from Beep Industries on Vimeo.
Red Pop is an accessory that plugs into the dock connector at the bottom of the iPhone. Intended to be used when the iPhone is in landscape mode, there is a red button at the very top that acts as the shutter button to capture your images via a Red Pop camera app.
The popularity–and practicality–of this solution is evident in the amount that Beep Industries has raised. Originally planned for $20,000 in funding, the company had raised nearly double that with $39,000. Hopefully, we can see Red Pop coming soon the near future for photographers.
Via: GigaOM

As an Amazon Associate I earn from qualifying purchases.