Refurbished 12-Inch MacBook Arrives in Online Apple Store
If you don't want to pay the full price for a new 12-inch MacBook, Apple now has the refurbished 12-inch MacBook available to purchase for a discount on the company's refurbished Apple Store website.
We've talked about buying refurbished Macs in the past, and it's practically one of the best ways to go if you can wait a little while before buying that new Mac that just released.
Apple usually puts up refurbished models a few months after they initially release and give them a decent discount since they're used products.
Read: New MacBook: 5 Things I Learned on the First Day
Apple has its own online refurbished store where it sells Macs and other Apple products that have been returned by customers, either because they didn't want them anymore, or because they broke. So when a user goes to the Genius Bar to trade in their broken device for a new one, that broken device eventually gets put up on Apple's refurbished store.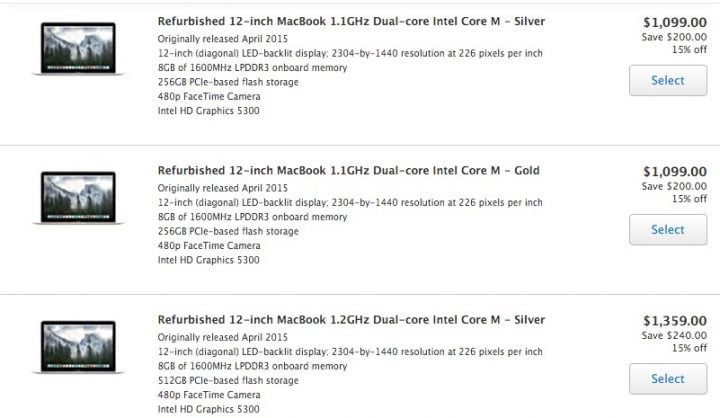 However, the company fixes up these products and puts a proverbial new coat of paint on them before re-selling them at a discounted price.
The latest product to enter into Apple's refurbished store is the 12-inch MacBook, which first released early last year, and it's currently Apple's thinnest and lightest laptop yet.
You can get a refurbished 12-inch MacBook for as low as $1,099, which is $200 off the normal price. This will get you a model with a 1.1GHz Intel Core M processor, 8GB of memory, and 256GB of flash storage.
There's also a model that comes with a 1.2GHz processor and 512GB of storage for $1,359, which is $240 off the regular price, making it the best value. You can also get one with a 1.3GHz processor for $1,489.
The 12-inch MacBook is certainly a unique device, especially considering that it uses the new USB-C standard, making it the first Apple product to implement it, but the most unique thing about the laptop is that it only has one USB-C port and a headphone jack.
It's certainly meant to be a portable device for those that connect wirelessly and don't need to plug in a lot of stuff, but of course, there are a ton of different adapters you can get if you do need to plug something in.
7 Best MacBook USB-C Accessories
Satechi 3 in 1 Combo Hub
If you want to expand that single USB-C port as far as it can go, Satechi's hub might be the accessory to buy.
The 3 in 1 Combo Hub comes with an SD card slot, a microSD card slot, and three USB 3.0 ports, all of which can be plugged into the single USB-C port to provide you with even more ports.
The hub is only $35, but a newer version is coming later this year that will have a passthrough USB-C port for charging and will only cost $5 more.