RIM Demos Android Apps Running on BlackBerry PlayBook (Video)
Today at BlackBerry World, RIM finally gave us a taste of how Android applications are going to run on their tablet device, the BlackBerry PlayBook.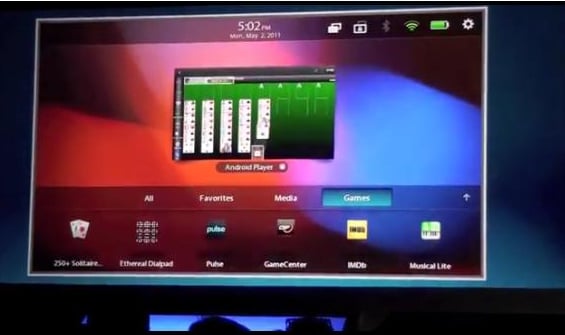 Back at the end of March, RIM confirmed the fact that the PlayBook would eventually get the ability to run Android applications. In the video below, you'll get a short glimpse of a couple of Android applications in action on the PlayBook.
The Android applications for the PlayBook will not come from the Android Market rather RIM will distribute the apps via the BlackBerry App World. That means that developers will not only have to get approval for the Android Market but also will have to submit the apps to RIM.
As you may know, the PlayBook has no physical buttons so applications that normally would use physical buttons will instead use on-screen gestures when used on the the tablet.
RIM expects Android applications will become available to BlackBerry PlayBook owners at some this summer.
(Via CrackBerry)
—
Video of BlackBerry PlayBook Running Android Apps