RIM to Show Off BBM on Android Phone Later This Month?
After Apple's recent unveiling of the iPhone 4S and the iMessages feature that will allow users to send secure and encrypted messages between iOS devices, it appears that RIM is looking to broaden the reach of its hallmark BBM service. BBM, or BlackBerry Messenger, currently allows BlackBerry users to message each other in a chat-like manner that doesn't rely on SMS or MMS to deliver messages quickly, easily, and securely. More recently, RIM had opened up BBM APIs so developers can now leverage BBM chats in their apps and make their games or programs more social. Recently uncovered screen shots on an Android smartphone uncovered on TechnoBuffalo suggests that the BBM experience may be coming soon to Android handset, though it's unclear if RIM is ready to open up one of the major and unique selling points of the BlackBerry platform to an outside platform.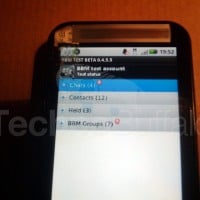 According to a tipster to that blog, BBM for Android may be previewed at this year's BlackBerry DevCon, scheduled to happen later this month in San Francisco, California.
I work for RIM and I was shown the latest version of bbm for android. I ran the app on the blackberry android dev phone.( The dev phone feels very cheap and unstable and the front four buttons have just been stuck on. I don't believe this phone will ever be released to the public.) The latest version certainly looks better than the previous version.
As for now, the images show BBM running on a prototype Android device utilized by RIM for testing.
While RIM is struggling with its own mobile experience and is trying to stem off loss of market share until the release of the BlackBerry OS on top of the QNX environment for smartphones–similar to what's being done on the PlayBook tablet–expanding the reach of BBM to Android may help keep RIM in the public eye until it can release a compelling experience to woo consumers. RIM has not been shy about Android in the past, and the company has promised to release an update to its PlayBook tablet to allow Android apps to run, and BBM on Android may be an extension of this strategy to keep RIM in the hardware and software space against tightening competition from Apple and Google.

As an Amazon Associate I earn from qualifying purchases.