RIM's BlackBerry PlayBook Keyboard Folio Case Now Available for Pre-Order
Whether the timing of the news is coincidental or not to come just as Apple announced its third-generation flagship tablet, Research in Motion has also made an announcement for an accessory for its BlackBerry PlayBook tablet. The accessory comes in the form of a folio-style case that could hold the PlayBook tablet on one side and a keyboard with a trackpad on the other side to create an instant mobile work station.
Though the package is not as elegant as Android rival Asus's Transformer Pad series laptop dock, the BlackBerry keyboard case serves a similar purpose. The case, however, unlike the Transformer, will not add additional USB or media ports, and will not extend the battery life of the tablet with its own built-in battery.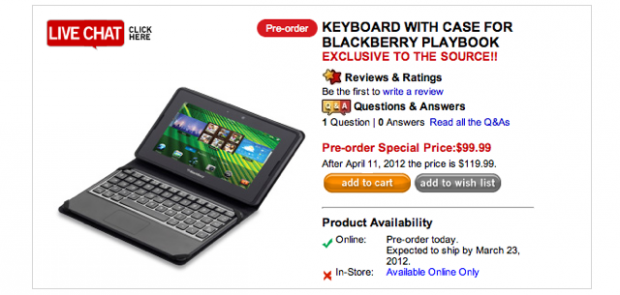 According to online Canadian retailer The Source, which will be the exclusive distributor in Canada for the keyboard case, "Unfold the case quickly and easily to create a workstation anywhere. The wireless connection is easy to set up and encrypted to protect every keystroke and swipe." Though not listed as a Bluetooth accessory, the keyboard, along with the trackpad, will most likely connect with the PlayBook over a secure Bluetooth connection, much in the same way that the tablet connects and pairs with Blackberry smartphones over BlackBerry Bridge.
The case will debut at a specila pre-order price of $100 through April 11. After that, the case will retail for $120. The case is expected to ship by March 23, 2012 for all the corporate-minded BlackBerry PlayBook users.
As RIM has promoted its tablet as an enterprise-class tablet, this should help users be more productive on the road. However, the $99 price tag may appear a bit steep as the base 16 GB PlayBook tablet itself only costs $200 after heavy discounting by RIM. The price of the accessory, however, is on-par with what Zagg is charging for its Bluetooth iPhone keyboard case, though the Zagg accessory lacks a trackpad.
Via: Mobile Syrup

As an Amazon Associate I earn from qualifying purchases.