Rooted Nook Color Transformed into In-Dash Car Stereo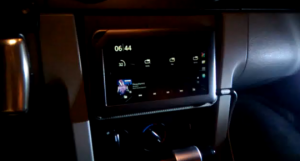 The Nook Color, launched and envisioned by Barnes & Noble as a dedicated e-reader that happens to also run on the Android operating system, has gotten more utility and functionality thanks to an enterprising community that expands the tablet's use far beyond what its makers had envisioned thanks in large part to that underlying Android OS. One developer has taken upon himself to modify the Nook to be used in his car as an in-dash car computer.
The device has been rooted, which is the Android equivalent of jailbreaking in iOS language, meaning that users can access features and functions that are normally hidden. The process of rooting has also been legalized by the U.S. government as it applies to phones and tablets through the Digital Millennium Copy Right Act revision, though manufacturers do not have to make it easy for users to root or jailbreak their devices. As a result, as demonstrated by Apple, it's been a tug and pull between manufacturer and hacker.
As a result of rooting, however, the Nook can now install any apps available on Android Market. In addition, a user has prepared a special navigation user interface for using the Nook as a car computer.
As the Nook Color doesn't have integrated 3G mobile broadband, there isn't a bult-in option for GPS. However, with a Bluetooth hack, users can add GPS capabilities to give the Android tablet turn-by-turn GPS directions via a Bluetooth GPS module accessory.
At a retail price of $250, the Nook Color is gaining more functions than its price tag leads on. The catch is that users who want the added functions from one of the more affordable tablets on the market right now have to be inclined to hack and modify their devices.
Via: Android Community

This article may contain affiliate links. Click here for more details.