Salvation Army Hopes Square Payment System Can Be Santa's Helper
The Salvation Army is looking to use Square's payment dongle, which plugs into a smartphone or tablet, to help collect donations from shoppers this holiday shopping season. In addition to the tradition sound of bells and clinking coins in red buckets, Square's payment may help attract donations from shoppers who only carry credit or debit cards rather than cash. In speaking with the New York Times, Square says, "We're basically trying to make sure we're keeping up with our donors and embrace the new technologies they're embracing," recognizing that many people don't carry cash anymore.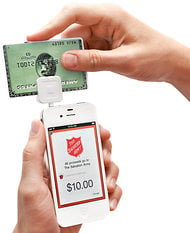 Square's mobile payment system has made it easy for vendors, small businesses, and others to collect money and process credit card transactions. One Girl Scout troop was able to sell 400 boxes of cookies in just an hour. One of the troop's father recognized the importance of digital payment as many people just don't carry cash anymore.
The Salvation Army would be the largest and most visible non-profit to adopt Square's technology. The technology will be deployed at ten locations each in Dallas, TX; San Francisco, CA; Chicago, IL; and New York, NY. Android phones will be donated by Sprint Nextel and outfitted using Square's square-sized dongle that connects to the phones.
For transactions, Square charges a 2.75 percent transaction fee, which most of it will go to the credit card companies. Square says the system is secure and because it is a traditional swipe of a credit card, should instill confidence on sellers and buyers unlike newer payment systems.
Google is also deploying its own Google Wallet initiative, which couples with an NFC-equipped Android smartphone, such as the Nexus S. With NFC technology embedded on the reader and on the phone, users can tap their phone to an NFC reader to make payments or purchases that way. The phone is linked to a credit card and that's how buyers would be charged when they tap their phones.