Samsung Ambitiously Paving the Phablet Road
Samsung announced at Mobile World Congress that in four months time, the company had shipped 2 million units of the 5.3-inch Galaxy Note, a device that straddles the phone and tablet form factors. While the Note has attracted a devoted following of people who appreciate the device's portability as a tablet while still retaining functionality of a phone for voice calls, there are others who dismiss the device due to its larger screen size, which makes it more noticeable when toting around the phone in a pocket.
The phone, which revived the stylus in the form of a Wacom-powered digitizer, had shipped 1 million units two months after it debuted and now another 2 months after Samsung has announced that another million have been shipped. The device most recently landed on AT&T's network, adding 4G LTE network support but shedding the Exynos mobile processor of the international version in favor of a Snapdragon processor as Qualcomm's chips offer better network support for AT&T.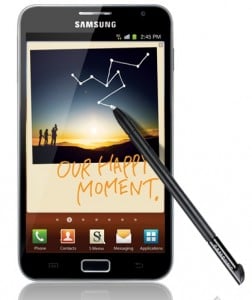 The Note, however, wasn't the first of the phablet–a mashup of phone and tablet–category. It was preceded by the Dell Streak 5, a device that was informally offered for AT&T, though was only available either online or via Best Buy. At Mobile World Congress, South Korean rival LG debuted the Vu–a 5-inch phablet with a 4:3 aspect ratio and high resolution screen display.
According to product strategy executive Hankil Yoon in an interview with Forbes, "I think people don't know what they need, but as soon as they start using it, they think that's what they need."
To a great degree, I agree with Yoon's sentimentalism with his company's phone at that size in that big of a form factor.
Still, yet, there are even more devices with differing form factors trying to straddle the phone and tablet divide. Sprint's Kyocera Echo bears dual displays, that when combined offers a tablet-like experience but can be folded down to offer a more compact form factor as a phone. At Mobile World Congress, Asus had also debuted the Padfone, which docks into a glass display to become a tablet, that can also be docked into a keyboard dock like the Eee Pad Transformer to become a netbook.
Other manufacturers, like Nokia, seem unsure of the larger footprint. Nokia's Stephen Elop confesses that it released the 4.3-inch Lumia 900 only because the U.S. market demanded it, but is unsure if the product will be a niche offering or not.
Samsung, on the other hand, is banking on the Note's success and hopes to sell at least another 10 million units by the end of the year. The company is also turning to the Galaxy Note as a brand as it recognizes that the Note's pen can offer differentiation from other Android tablets. It's unclear if Samsung is counting the new 10.1-inch Galaxy Note tablets as well inside its 10 million estimate for the brand, but at least with heavy support from Samsung, LG, and others, the phablet may live on another day.

This article may contain affiliate links. Click here for more details.