Samsung Combines Galaxy Nexus, S III Specs Into Affordable Galaxy Premier
Samsung is growing its Galaxy lineup of Android smartphones to hit more price points and target more consumers, and the latest Galaxy Premier is a phone that slots in just under the flagship Galaxy S III with commendable specs. The device will be between the company's Galaxy Nexus, which was made together with Google, and the newer Galaxy S III smartphone.
The Galaxy Premier was at one point thought to be a next-generation successor to the Galaxy Nexus with a model number GT-I9260, but that isn't the case according to information obtained from Mobile Geeks and reported by Unwired View.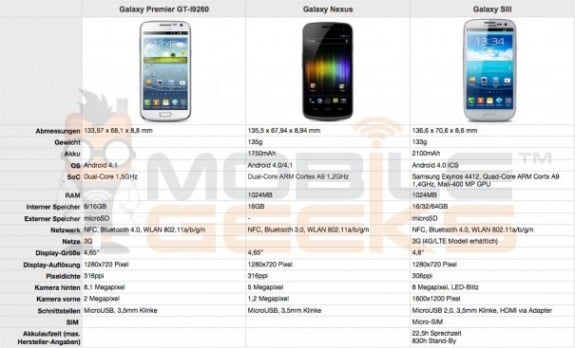 Featuring a 4.65-inch HD Super AMOLED display, the Galaxy Premier's display borrows the same resolution and size from the Galaxy Nexus series; the Galaxy S III has a larger 4.8-inch HD Super AMOLED screen.
The device, however, won't have software buttons, like what Google opted for on the Nexus series, but instead will have a button layout that's more akin to the Galaxy S III with a hardware home button that's flanked on either side by a capacitive touch button.
The device will have a dual-core 1.5 GHz CPU processor, which makes it more like the U.S. variant of the Galaxy S III–the international edition relied on Samsung's quad-core Exynos CPU.
The phone will have an 8-megapixel camera, same as the Galaxy S III and up from the 5-megapixel shooter on the Galaxy Nexus, front-facing camera, and either 16 or 32 GB of internal storage. Like the Galaxy S III, the Galaxy Premier will also have a micro SD card slot for user expandable storage.
The phone will be targeted at Europe and is said to launch in Germany by the end of the year at the estimated price of €480. It's unlikely that the Galaxy Premier will debut in the U.S. given its more modest 14.4 HSDPA (HSPA) radio and 5.76 Mbps HSUPA, meaning that it won't work on LTE networks.
The device will also have Bluetooth 4.0, NFC, GPS, and DLNA. The Galaxy Premier will launch with Android 4.1 Jelly Bean.
In separate news, Samsung and Google are rumored to be partnering to launch a larger 10.1-inch Nexus tablet.

As an Amazon Associate I earn from qualifying purchases.