Samsung Confirms Ice Cream Sandwich for T-Mobile Devices
Back at the end of April, Samsung confirmed Android 4.0 Ice Cream Sandwich for devices on every carrier but T-Mobile. Today though, that has changed as the company has revealed four T-Mobile devices that will be graced with the update at some point in the future.
The manufacturer has cleared up the mess that was left when it said back in April that it would reveal T-Mobile devices set to receive Android 4.0 in the months ahead.
Obviously, T-Mobile device owners didn't like that much and Samsung clearly decided to appease them.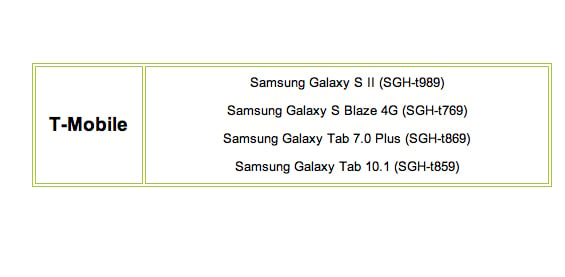 The company has listed four devices set to receive the update, a list that includes the Samsung Galaxy S II, the Samsung Galaxy S Blaze 4G, the Samsung Galaxy Tab 7.0 Plus and the Samsung Galaxy Tab 10.1.
So, this should be some relief for Galaxy S II owners out there who were worried that the Android 4.0 update might not be headed their way.
Unfortunately, there is no confirmation as to when these devices will be getting the update to Ice Cream Sandwich which means it could be a matter of days, weeks or months before the software finally decides to roll out.
T-Mobile is finally poised to roll out Android 4.0 for two of its smartphones, the HTC Sensation 4G and the HTC Amaze 4G. The Sensation 4G will be getting its upgrade tomorrow while the Amaze 4G is scheduled to get its update sometime in the coming weeks ahead.
We can only hope that the process is a smooth one and that the updates for the Samsung devices follow soon afterwards.

As an Amazon Associate I earn from qualifying purchases.