Samsung Design Makes It Easier to Bring More Tablets to More Bars
Remember AT&T Mobility's old "More Bars In More Places" ads? A Samsung slate design innovation may make it easier for consumers to take more tablets to more bars, or essentially make it easier for consumers to take large 10-inch tablets to more places.
As it stands, the domicile of 10-inch tablets is usually the home as these tablets are too large to carry around in just a jacket pocket or purse and usually requires a larger bag or briefcase. Smaller 7- or 8-inch tablets are more portable as they can be squeezed into a purse or coat pocket. Fortunately, Samsung's design patent, which may or may not show up in a future Galaxy Tab or Galaxy Note tablet, adds a carrying handle to the tablet that will make it easier and more convenient for users to take their tablets out of the home or office.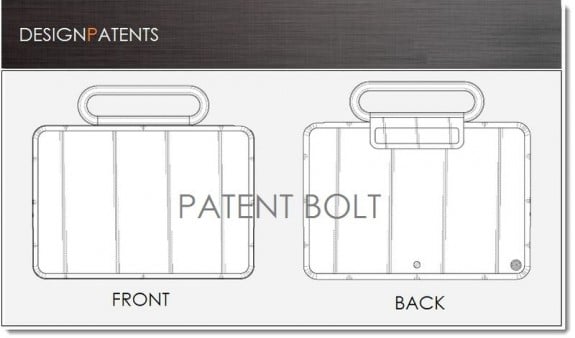 This will allow users, for example, the convenience of taking a tablet out after work with them. Or even on a commute on a train in the morning without requiring users to carry a bag or briefcase to hold the slate.
The recently filed patent application, discovered by Patent Bolt, takes a page from Apple's playbook. The tablet's carry handle looks similar to the Apple's old iBook design of yore.
Given that Samsung and Apple are embroiled in numerous lawsuits spanning several continents with each company accusing the other of either infringing on its innovations, designs, or technology, the latest similarity between the Samsung tablet design and Apple's old iBook notebook with a carrying handle may not win Samsung any favors from Apple.
The patent also shows a tablet with a foldover screen cover that can fold back and wrap around to connect with the hinged carrying handle to form a display stand. Apple uses a Smart Cover for its tablet, that can fold to create a stand, and Samsung has a similar concept with its Book Cover cases for the Galaxy Note and Galaxy Tab tablet lines. The difference is that many of Samsung's Book Cover cases protect the rear of the tablet and are not smart covers to turn on the tablet's display when the cover is opened.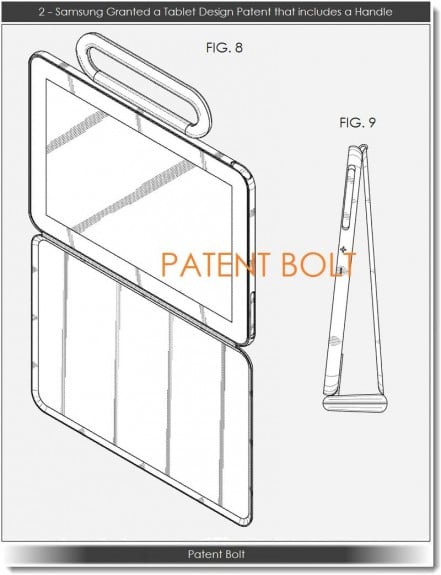 The carrying handle does add some bulk to the tablet design, but may be a useful tool for people who need to carry their tablets around in the field. Students, field workers, and even hospital workers may benefit from having a handle to tote the tablet around. The problem with larger tablets–primarily those that hover around the 10-inch screen size–is that they're too big to always carry everywhere with you. Smaller 7- and 8-inch tablets are more ideally suited for portable and mobile use out of the house because they can fit into jacket pockets and purses. Having a handle would mean users can carry around the tablet without having to resort to stowing a tablet inside a bag, briefcase, or satchel.
Still, a patent application doesn't mean that the tablet will get commercialized by Samsung into a consumer product, but it does show that Samsung is thinking about new designs and form factors.

As an Amazon Associate I earn from qualifying purchases.