Samsung Ditches Roman Numerals for Galaxy S3?
It's still unclear if Samsung will debut its third-generation Android flagship smartphone as the Samsung Galaxy S III or the Galaxy S3, but according to the Samsung Unpacked Mobile 2012 app available on Google's Play Store, it appears that the smartphone is listed as the Galaxy S3. A departure from the Roman numeral in the naming scheme would allow Samsung to simplify its smartphone naming. After having released the Samsung Galaxy S, the second-generation follow-up was bestowed the Roman numeral 'II' after the name, rather than a simple '2.'
Engadget posted that the description of the Samsung Mobile Unpacked app for Android shows the Galaxy S3 moniker.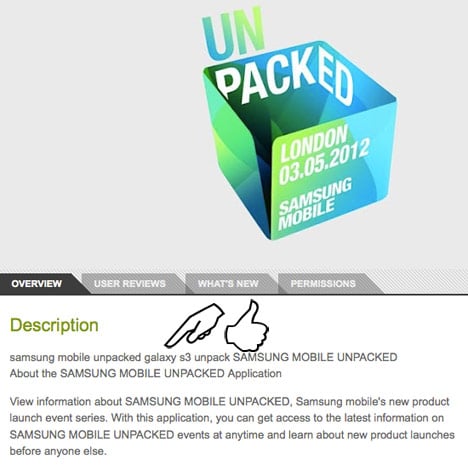 Samsung is expected to unveil the phone at its London event at the beginning of next month, so we'll know soon enough about the phone's final naming details on May 3.
In recent days, there have been various leaks about the phone, including a video showing off what appears to be the phone's final casing design.
If and when the smartphone comes to the U.S., it's unclear if Samsung will control the device's name this time around. In the past, Samsung had let American carriers re-brand the handsets for their own networks, but a unified global brand would make it easier for Samsung to market the phone and differentiate its devices against the competitors. The original Galaxy S was known in four different variants for four different U.S. carriers as the AT&T Captivate, Sprint Epic 4G, T-Mobile Vibrant, and Verizon Fascinate.
The Samsung Mobile Unpacked 2012 app will also allow users to watch the unveiling event live from their Android smartphones.

As an Amazon Associate I earn from qualifying purchases.