Samsung Epic 4G Touch Ice Cream Sandwich Update Release Date Close?
It would appear that the wait for the Samsung Epic 4G Touch Ice Cream Sandwich release date is close to being over.
According to a document obtained by Android Central, Sprint will start rolling out the Ice Cream Sandwich update to its version of the Galaxy S II starting this Thursday. The roll out will then apparently last all the way until July 20th which means that some owners will have to wait a few days for ICS to arrive.
It appears that Sprint will not be using Samsung Kies, the method that AT&T used for its Galaxy S II Ice Cream Sandwich update.
Of course, it's possible that the update might be delayed even further. Sprint and Samsung have remained mum on the software's release date and this leak isn't confirmation that the roll out is going to happen this week.
Read: Sprint Epic 4G Touch Ice Cream Sandwich Release Date Remains a Mystery.
However, now that the AT&T and Sprint versions of the Galaxy S II have received the Ice Cream Sandwich, it's hard to imagine that the ICS update for Sprint's Epic 4G Touch is far off.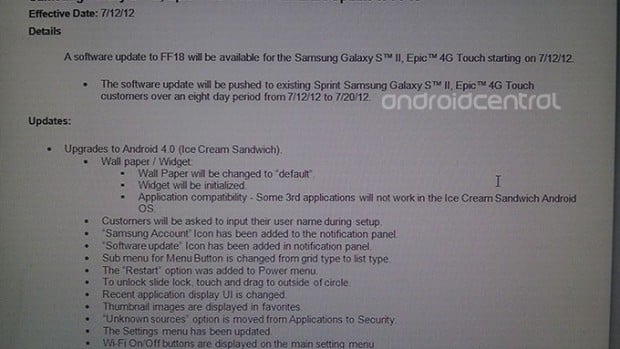 Owners have had to endure a long wait for the upgrade, an upgrade that was promised to them earlier this year. Even AT&T's Galaxy S II Skyrocket has received the update to Ice Cream Sandwich already.
Fortunately, it appears that the wait is possibly going to end later on this week so those who own Sprint's Galaxy S II should start crossing those fingers now and hope that Sprint is still on track for that Thursday release date.
We'll let you know when we hear something further.

As an Amazon Associate I earn from qualifying purchases.