Samsung Eyes BlackBerry, Droid Pro with Android Galaxy Pro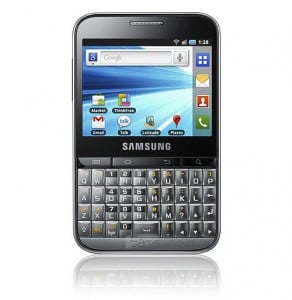 Now that Android smartphone-makers have conquered the consumer-centric market with large glossy touchscreens, Samsung is following Motorola's lead by targeting enterprise customers with the Galaxy Pro, an Android-powered handset with a front-facing QWERTY keyboard that will aid in messaging and composing longer emails.
Unlike the more vanilla nature of Motorola's customizations through the widgets-based UI on the Droid Pro or the MOTO BLUR Motorola Pro, the GSM cousin of the Verizon-branded handset, Samsung's Galaxy Pro will come with TouchWiz where the customizations are seen throughout the phone, and not just on the home screen. On the Galaxy S, TouchWiz extends Samsung's visual style and user experience to the way the App Launcher works to various widgets and home screen customizations. That means that even if you remove the widgets on the home screen, you'll still be left with Samsung's custom icon graphics and an iOS-styled launcher.
https://www.youtube.com/watch?v=0sJ3eO63v40
The Samsung Galaxy Pro will be a part of the Galaxy family of phones, which includes the Galaxy S and other Android devices. The Galaxy Pro features Android 2.2, 800MHz CPU, 2.8-inch touchscreen display, 3MP camera, Wi-Fi, Social Hub Premium, according to Samsung Hub.
Also, while the Droid Pro and Motorola Pro both utilize a portrait-oriented touchscreen, the Galaxy Pro will utilize a more traditional landscape-oriented touchscreen, making the handset look like a wider device than the taller aesthetics of the Motorola handsets. Additionally, while Motorola opted to remain true to the BlackBerry keys–the keys have the same beveled look and feel to the BlackBerry Bold's keyboard, though the arrangement of secondary characters are different, Samsung opted to be a bit different. Rather than beveling the key edges up, Samsung's dipping the key edges down, it appears from early photos, and the keys probably are more reminiscent of the Samsung Jack, a Windows Mobile Standard device that was released in the past on AT&T.
For now, the phone has been announced to come to UK carrier Three. It's unclear if the handset will make it State-side at this point, but if it does, it will give Motorola's Droid Pro some serious competition as the only enterprise-geared Android smartphone at this time.