Samsung Galaxy Nexus Might Hit Verizon on November 21st
While we now have a good idea about how much the Samsung Galaxy Nexus will cost when it hits Verizon in the coming weeks, the release date situation has gotten even more confusing as a leaked road map has indicated that the device will be arriving online for Big Red on November 21st. We had previously heard that it would arrive on November 17th, the same day as Europe.
However, it would appear that that report about the U.S. getting it after those across the pond get it might just turn out to be true. As you can see, this document calls out the release dates for the HTC Rezound and the Motorola Droid RAZR correctly so it's not impossible that it has the Galaxy Nexus release date pegged correctly as well.
Obviously, this is probably a lot longer of a wait than many of you hoped for but you're just going to have to remain patient as Verizon tries to decide when to put this bad boy out onto the market.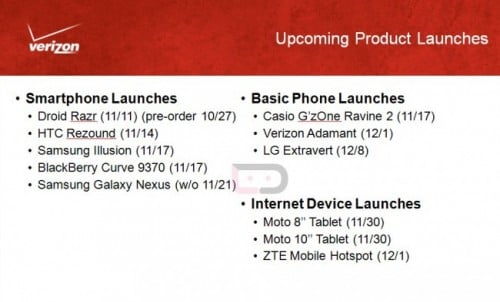 But hey, on the bright side, at least this will give you a few more days to save up some more money.
Remember, the Galaxy Nexus isn't cheap.
Oh, and for those of you looking to get a hold of a new Xoom tablet, it would appear that the Xoom 2's will be out at the end of the month.
Via: Droid-Life

As an Amazon Associate I earn from qualifying purchases.