Samsung Galaxy Note 10.1 Launch Pegged for February
The Samsung Galaxy Note for AT&T's 4G LTE network, you know, the one that the company promoted during the Super Bowl, isn't even out yet. It arrives February 19th for $299.99. Oddly enough, it appears that Samsung might be gearing up for an announcement regarding a 10-inch version of the Galaxy Note at this month's Mobile World Congress in Barcelona.
While that might seem odd and completely ridiculous, The Verge managed to dig up some evidence that seems to point to the Galaxy Note 10.1 as being very real. And this isn't any old evidence that we're talking about here either.
It comes from Samsung itself.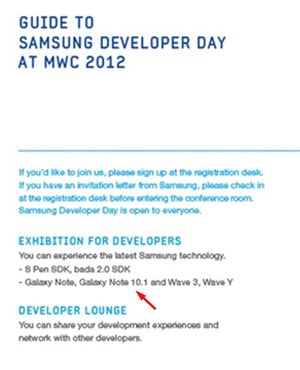 (Read: Samsung Galaxy Note Review: First Impressions and Size Comparisons.)
The Samsung Galaxy Note 10.1 appears on an invitation to Samsung Developer Day at MWC 2012 right alongside the Galaxy Note. Could be a typo, but that would be an extremely strange typo.
In addition, the Galaxy Note 10.1 appears next to Samsung's Wave 3 and Wave 7 Bada-powered phones.
The dev event is apparently going to center on the company's S-Pen, which you can see in action in the video below, an accessory that comes bundled in with the Galaxy Note. It allow users to write directly onto the display which is perfect for business meetings, college lectures, and more.
That invitation isn't the only evidence either.

Samsung has apparently been looking for someone to star in a commercial for, you guessed it, a Samsung Galaxy Note 10.1. The listing has been removed but the shoot was scheduled to take place in February, the same month that MWC is set to take place.
Coincidence?
Maybe.
But an announcement at MWC seems fairly likely at this point, unless Samsung says otherwise.
The regular old Samsung Galaxy Note figures to be one of the more interesting releases of 2012. It boasts a 5.3-inch display but also has the capabilities of a smartphone, meaning, it can make calls.
(Read: Samsung Galaxy Note: Initial Speed and Battery Tests.)
The buzz around the device has been so huge that Samsung saw it fit to take out an add during the Super Bowl, the first for Samsung's mobile division, which you can see below:
https://www.youtube.com/watch?feature=player_embedded&v=CgfknZidYq0
Introducing a new Galaxy Note so soon after launch would be a bit puzzling but remember, this is the same company that introduced a Galaxy Tab 10.1, Tab 8.9 and Tab 7.7 last year.
It's unclear right now how different a Galaxy Note 10.1 would be from the Galaxy Note besides the screen size and the S-Pen capabilities but we may just find out sooner than we think.

This article may contain affiliate links. Click here for more details.