Samsung Galaxy Note 10.1 Pre-Order Vanishes
Earlier today, the Samsung Galaxy Note 10.1 went up for pre-order at Amazon. However, it appears that the retail may have jumped the gun.
It appears that Amazon has brought down the pre-order page shortly after it put the Galaxy Note 10.1 up for order for those living in the United States.
The device had been available on Amazon for $549 with a shipping date that was expected to arrive in three to five weeks time. Now though, the device has vanished completely from the website without explanation.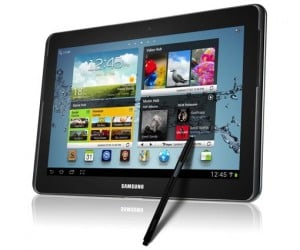 Amazon did not list a specific release date for the device which means the launch of the device is still up in the air. It's also unclear why the retailer had the device up for pre-order to begin with. It could be that it was an error but it's also possible that the retailer received word of the device's release only to be told that that release information had changed.
Whatever the case may be, the Galaxy Note 10.1 has vanished and it's unclear when pre-orders might return to Amazon or appear at other retailers.
The Samsung Galaxy Note 10.1 was originally introduced to the world at Mobile World Congress 2012 all the way back in February. It will come with both a large screen and stylus for writing and drawing directly on the screen.
It was originally announced with a dual-core processor, but the Galaxy Note 10.1 should be arriving with a quad-core Exynos processor. Samsung has also apparently added a nice little pen holder for the Galaxy Note's 10.1 stylus that will be used to write and draw directly on the screen.
It's likely that both of those caused the device to be delayed.
We'll be on the look out for Galaxy Note 10.1 pre-orders and let you know if and when we hear from Samsung.

As an Amazon Associate I earn from qualifying purchases.