Samsung Galaxy Note 10.1 Pre-Orders Begin
Amazon has begun taking pre-orders for the Samsung Galaxy Note 10.1, ahead of it's anticipated launch in the U.S.
According to PhoneArena, Amazon in the United States is now accepting orders for the 10-inch Galaxy Note and those willing to shell out $549 will be able to put their name down for a future device.
Of course, there still is no official release date, although Amazon says that it should become available anywhere between three to five weeks from now.
Update: It looks like Amazon pulled the pre-order.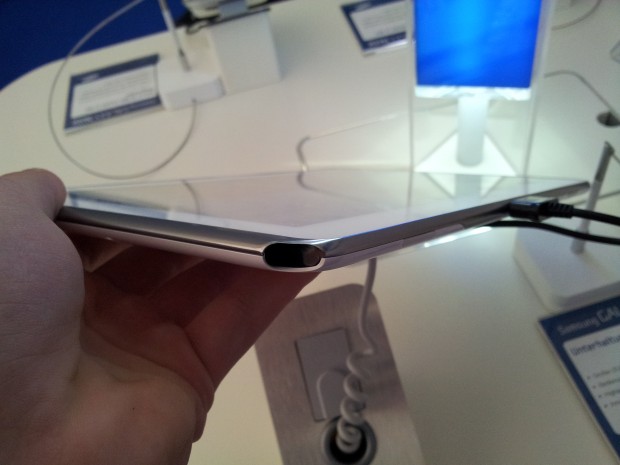 The Samsung Galaxy Note 10.1 was originally introduced to the world at Mobile World Congress 2012 all the way back in February. Since then, details have been scarce about Samsung's tablet that will not only come with a large screen but a stylus as well.
It appears that the reason for the hold up was because Samsung was making some tweaks to the device.
Although the device originally was announced with a dual-core processor, the Galaxy Note 10.1 should be arriving with a quad-core Exynos processor. Samsung has also apparently added a nice little pen holder for the Galaxy Note's 10.1 stylus that will be used to write and draw directly on the screen.
Both are welcomed improvements and should be exciting to those that have been waiting for this device to arrive.
As for its other features, the 10.1-inch Note retains the 1280 X 800 resolution of the 5.3-inch edition that's currently available on AT&T.
Along with HSPA+ network support, the Galaxy Note 10.1 will arrive with a dual-core 1.4 GHz CPU, 1 GB RAM, and either 16, 32, or 64 GB of on-board storage with a micro SDHC card slot
It also runs Android 4.0 Ice Cream Sandwich out of the box.

As an Amazon Associate I earn from qualifying purchases.