Samsung Galaxy Note 2 Arrives in Two New Colors
The Samsung Galaxy Note 2, which has long rumored to be coming in two new colors, has emerged, officially, in two new hues today though the new colors appear limited to only one region of the world at this time.
Read: 6 Ways the Samsung Galaxy Note 2 Beats the Nexus 4.
In the buildup to CES 2013, we had heard about several new colors for the 5.5-inch Samsung Galaxy Note 2 phablet. However, during the show, it was the Samsung Galaxy S3 Mini that received the new tints while the Galaxy Note 2 remained stuck with its original shades. Now though, Samsung has taken the wraps off of its two new Galaxy Note 2 colors.
The company, according to Korean publication ETNews, today announced two different colors for the Galaxy Note 2 including amber brown and ruby wine, two of the colors that had emerged as potential candidates in the weeks prior. Thus far, it appears that the colors are only available in Korea, though we imagine that they will, in similar fashion to the post-launch color additions to the Galaxy S3, arrive in other regions in the future.
One color that is missing is the black Samsung Galaxy Note 2 that was rumored to be a possibility several weeks ago. We saw a black Galaxy S3 emerge post-launch so it's entirely possible that Samsung has one up its sleeve but at this point, it's missing.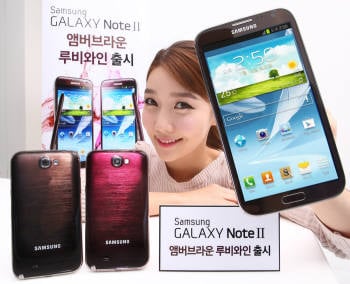 These new colors don't mean a new Galaxy Note 2 though. The device should be the exact same Galaxy Note 2 that emerged back in August at IFA in two shades, blue and gray. Those two colors are the colors that have been available to customers in the United States looking to pick up a Galaxy Note 2 phablet on AT&T, Sprint, T-Mobile, U.S. Cellular and Verizon.
Read: 6 Ways the Nexus 4 Beats the Samsung Galaxy Note 2.
American carriers did take on new color schemes for the Galaxy S3 so it's possible that the amber brown and ruby red Galaxy Note 2 will arrive in the United States but at this point, Samsung and the carriers aren't saying exactly when.
The Samsung Galaxy Note 2, which first hit the U.S. in October, features a massive 5.5-inch display, quad-core processor, 4G LTE data speeds, S-Pen stylus, and Android 4.1 Jelly Bean out of the box.
Thanks, Joseph!