Samsung Galaxy Note 2 Carriers: What to Expect
The Samsung Galaxy Note 2 is, along with the next Nexus, one of the most anticipated Android smartphones of 2012. Samsung plans to make the device official on August 29th and it's at that point that we'll find out about it officially. And while we don't know anything about the Galaxy Note 2 for sure, we can make some educated predictions and today we wanted to take a look at the Galaxy Note 2's potential carriers here in the United States.
The original 5.3-inch Galaxy Note launched in late 2011. However, it took a couple of months for the device to finally make it to the United States.
When it did, it landed on AT&T as an exclusive, running on the carrier's 4G LTE network, quickly becoming an integral part of AT&T's 4G LTE lineup.
Read: Samsung Galaxy Note 2 Features: What to Expect.
Today, the device landed on another American carrier for the first time, nearly a year after the device was first announced at the IFA trade show in Berlin, Germany.
That is the route that the original Galaxy Note took here in the U.S. and now it's time to take a close look at what we expect from the Samsung Galaxy Note 2's path, carrier-wise, here in the United States.
U.S. Will Get It Late
Android launches, have proven time and time again, that the U.S. will always play second fiddle when it comes to devices that are launching on a global scale.
The Samsung Galaxy S III launch is and was a good example of this. The UK and several other regions saw the Galaxy S III launch in May and then the U.S. saw the device finally arrive in late June and early July.
Read: Samsung Galaxy Note 2 Release Date: What Not to Expect.
We expect something to similar to happen with the Galaxy Note 2 and its launch on U.S. carriers. The first sign is that Samsung plans to announce the device in Europe, ahead of IFA. Assuming the company doesn't announce the Note 2 at its U.S. August 15th event, this is a sign that it will launch in Europe and possibly Asia first.
Then, it will likely move to the carrier or carriers in the U.S. several weeks or months later. So, again, we don't expect U.S. carriers to have the device on the devices initial launch day.
AT&T
At this point, consumers in the U.S. should expect AT&T to be a carrier of the Samsung Galaxy Note 2, a device that is said to have a 5.5-inch display, quad-core processor, 4G LTE speeds, and better cameras.
And that's because AT&T was the original carrier of the Galaxy Note and we haven't seen any signs that that relationship is going to change with the Galaxy Note 2.
The device definitely became a staple of AT&T's Android lineup and we can't imagine the carrier not adding it to its portfolio this time around.
AT&T's needs all the help it can get in the battle for 4G LTE supremacy. With only around 50 4G LTE markets available, the carrier's network is dwarfed by Verizon's which has more than 300.
However, by offering quality devices like the Galaxy Note 2, AT&T has a better chance of luring in customers to its new high-speed network.
T-Mobile
If T-Mobile gets the Samsung Galaxy Note 2, we don't expect it to arrive anywhere close to the smartphone's first U.S. launch date. There are two reasons for that.
T-Mobile just launched the original Galaxy Note and it would anger its customers if it were to launch the Galaxy Note 2 so soon afterward.
Read: 5 Thoughts on the T-Mobile Galaxy Note.
It does not yet have a 4G LTE network in place but will have one up in 2013. By waiting, T-Mobile would not only be able to offer a 4G LTE Galaxy Note 2 but it would also be able to keep customers relatively happy.
It's clear that T-Mobile likes the Galaxy Note and we expect it to arrive on the Magenta carrier somewhere down the line.
Sprint
Sprint was rumored to be getting the Galaxy Note several times but for one reason or another, it passed on carrying the original 5.3-inch phablet.
That may have been, in part, due to the fact that its still getting its 4G LTE network off the ground and had an assortment of other 4G LTE devices in place already to help get its new network off the ground.
Read: Samsung Galaxy Note Appears on Sprint's Website.
Now that the network is in place, a launch of the Galaxy Note 2 could very well be in the cards. Like AT&T, Sprint needs all of the help it can get against Verizon's 4G LTE stranglehold and the Galaxy Note 2 would be a way to help bring in some new customers.
Of course, if Sprint does launch the Galaxy Note 2, don't expect a widespread 4G LTE network. Sprint is far behind AT&T and Verizon and as of now, only has 15 markets in place.
That will likely change by the time the Galaxy Note 2 arrives but even then, Sprint's 4G LTE network won't be anywhere close to either AT&T or Verizon in size.
Verizon
We know that Verizon customers wanted the original Note. And we know that customers on Big Red are going to be clamoring for the Galaxy Note 2.
Considering the success of the Galaxy Note and how competitive the 4G LTE market has become, it would not be surprising to see Verizon launch the Galaxy Note 2.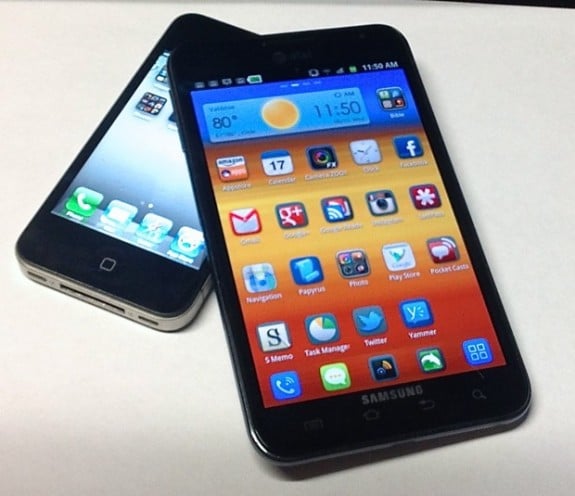 That being said, there is also talk of a Verizon-bound HTC device that features a 5-inch display and might be Big Red's Galaxy Note 2 competitor.
It's also possible that it might carry both.
So, right now, it's hard to say whether Verizon will get the device but we expect the Galaxy Note 2 to sell very well on the carrier if it does.
Other Carriers
And what about the smaller U.S. carriers? Well, again, the Galaxy Note only launched on AT&T and T-Mobile, two major U.S. carriers which provides a bit of doubt for a future launch on smaller providers.
However, Samsung did launch the Galaxy S III on U.S. Cellular shortly after the big four got it, and the carrier does have a 4G LTE network in place.
It's possible that the successes of the original Galaxy Note will compel Samsung to launch the device not just on major carriers, but smaller regional ones as well.

This article may contain affiliate links. Click here for more details.