Samsung Galaxy Note 2 Drop Test
The Samsung Galaxy Note 2 phablet, with its massive 5.5-inch display suffered through a drop-test by the same guys recently drop tested the Samsung Galaxy S III and iPhone 5. Android Authority's Note 2 drop test includes dropping the giant Android smartphone from three different heights.
Android Authority tested the Samsung Galaxy S III and the iPhone 5 head-to-head when Apple launched its latest phone two weeks ago. The iPhone 5 fared very well, while the Samsung Galaxy S III broke after a short drop from chest high. The results were somewhat surprising considering how many shattered iPhones we've seen in recent years and that an Android fan site conducted the tests.
So how did the new international version of the Samsung Galaxy Note 2 fare? See for yourself in the video below.
The Galaxy Note 2 didn't have any significant damage after three drops. The first drop was from 2′ 6″, demonstrating what might happen if a user dropped his phone while pulling it out of his pants pocket. The second drop was from 4′, about chest high, simulating how a user might drop his phone while raising it to talk. Finally, the Galaxy Note 2 was dropped from about 5′ 6″, simulating a drop from ear height.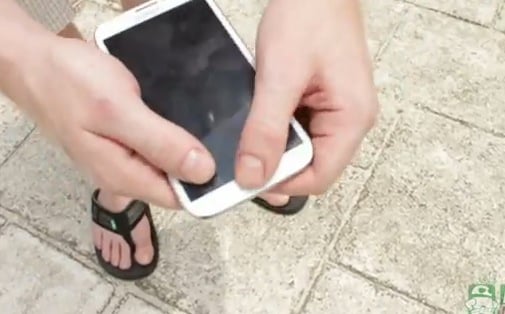 Each time the Galaxy Note 2's back came off and the battery popped out. However, the screen didn't break and the phone's edges had only a few scratches. No one likes such scratches, but they can easily be avoided by outfitting the phone with a case. While these drop tests are hardly scientific, it appears that the Galaxy Note 2 is more durable than the Galaxy S III where it matters most. Cracked displays render smartphones unusable and are very expensive to repair. If the above video is any indication, Note 2 users are going to have to put their devices through some serious abuse before having to foot a display repair bill.
The Samsung Galaxy Note 2 will be available in the United States later this month.