Samsung Galaxy Note 2 Release Date: What to Expect
As the month of July winds down, we inch closer to a rumored Samsung Galaxy Note 2 launch date that is supposedly going to be taking place at an event in the United States on August 15th.
Samsung hasn't confirmed anything as of yet but we have seen two different reports that say that August 15th will indeed be the day that Samsung unveils the U.S.-bound version of the Samsung Galaxy Note 2. An unveiling of the international Galaxy Note 2 would then take place on August 30th or August 31st at IFA in Berlin. Again, neither none of these dates are confirmed.
Read: Samsung Galaxy Note 2 Release Date, Feature, Design and Spec Rumor Roundup.
The Galaxy Note 2 is rumored to be a massive upgrade over the original Galaxy Note phablet. The device is rumored to have a 5.5-inch display with 720p HD resolution, a quad-core Exynos processor, 4G LTE data speeds, Android 4.0 Ice Cream Sandwich or Android 4.1 Jelly Bean, a design based on the Galaxy S III and an upgraded rear camera.
And while the device remains in the shadows, those specifications seem likely considering how many leaks have spouted up over the past few weeks indicating the same thing.
Needless to say, owners are excited about the prospects Galaxy Note 2. However, they are also interested in the Galaxy Note 2's release date which has yet to be revealed or rumored.
Even without a specific release date, we can take a look at what consumers should expect from a Galaxy Note 2 launch should it, in fact, launch next month.
Galaxy Note 2 Release Date in August/September/November
If Samsung does announce the Samsung Galaxy Note 2 for the United States on August 15th as has been rumored, then consumers should expect it to either launch in August, early September or November.
Often, Android manufacturers will announce a device and release it a month or two later. This likely won't happen with the Samsung Galaxy Note 2 as Samsung is fully aware that the iPhone 5 is looming on the horizon.
The iPhone 5 is widely believed to be launching in either later September or October so it would make sense for Samsung to either launch its device before or after the iPhone 5 launch.
Launching before it at least gives it a preemptive strike against Apple and that's why August and September seem to be the front-runners at this point.
Release Date Not Given at Announcement
When Samsung announced the Galaxy S III, it only gave a launch month for the U.S., a launch month of June. It did not give a specific release date for the device. This is a common occurrence for Android smartphone launches, especially major ones, and we expect this to happen with the Galaxy Note 2.
Carriers might still be finalizing dates. They might be outfitting it with Android 4.1 Jelly Bean. Or they might withhold a date to keep Apple off-guard. Whatever the case may be, we don't expect a specific release date to arrive at the event on August 15th.
Last year, the Galaxy Note launched in the U.S. long after it was officially announced. We don't think that will happen this year with the announcement apparently taking place in the United States.
Tons of Demand and Trouble
The original 5.3-inch Samsung Galaxy Note was a surprise hit with consumers. Samsung was able to push out over 10 million Samsung Galaxy Note's worldwide and the demand for the Galaxy Note 2 should be even higher now that Samsung has a proven success.
Read: Verizon Galaxy S III Launch is a Mess.
That could spell trouble for Samsung and consumers hoping to get the Galaxy Note 2 early.
Samsung had a difficult time keeping up with demand for the Galaxy S III and it's possible that the same thing could happen with the launch of the Galaxy Note 2. We know that consumers are excited about this device and the improvements that Samsung has made and that could make for some release date issues.
AT&T, At The Very Least
The Samsung Galaxy Note has, for most of 2011, only been available on one carrier in the U.S. That carrier of course is AT&T. The Galaxy Note will be headed to T-Mobile in August.
We fully expect AT&T to carry the device again at launch, on part due to its popularity and because AT&T needs all the help it can get in its fight against Verizon's 4G LTE network.
https://www.youtube.com/watch?v=FvH6vbhOs6Y&feature=player_embedded
However, that success may have other carriers smelling blood. Consumers on Sprint and Verizon have been pleading for a Galaxy Note ever since the device became an AT&T exclusive and they might just get their wish with the Galaxy Note 2.
It helps that Sprint now has a 4G LTE network and that Verizon has an absolutely massive one. Samsung, like Apple, likes to make money so it's possible that it will take its Galaxy Note 2 to carriers other than AT&T.
If Multiple Carriers, Multiple Launch Dates
If the Samsung Galaxy Note 2 does launch on multiple U.S. carriers, we expect separate release dates for the device. Carriers tend to launch shared devices on different days to avoid conflicting with each other and we expect the same for the Galaxy Note 2.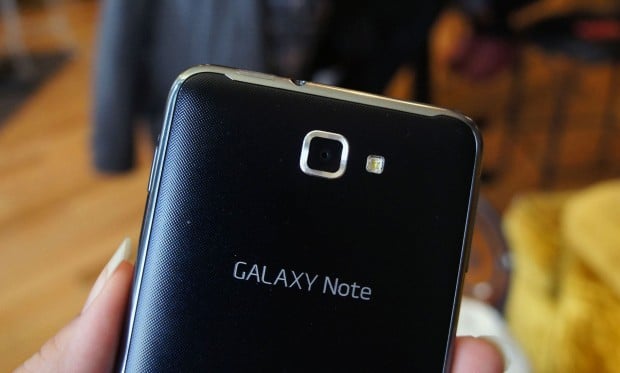 That might mean that while AT&T's model gets an early launch, the launches on carriers like Sprint and Verizon might take place a week or even a few weeks down the line.
Hopefully, the release dates don't resemble those of the Galaxy S III which saw a completely jumbled release date where carriers launched the device in an extremely staggered manner.