Samsung Galaxy Note 2 U.S. Launch Date: What to Expect
Samsung has an event planned for October 24th in New York City and while the company remains coy about what the event entails, it's heavily rumored to be the U.S. launch date for the Samsung Galaxy Note 2, the 5.5-inch phablet that was announced back in August.
The invite itself features an S-Pen, a not-so-subtle hint that the the event likely pertains to the Galaxy Note 2, and we've also seen quite a bit of movement amongst the five confirmed Galaxy Note 2 variants which will be headed to AT&T, Sprint, T-Mobile, Verizon and U.S. Cellular.
That movement, which includes passing FCC inspection, all but confirms October 24th as the U.S. launch date for the Galaxy Note 2.
Read: Sprint Galaxy Note 2 Release Date Gets Closer.
The Galaxy Note 2 remains one of the most anticipated devices of the year, not only because it brings a large 5.5-inch HD display but because it features a quad-core processor combined with 4G LTE data speeds. Phones that feature both of these have yet to take off in the United States. It also features Android 4.1 Jelly Bean, dual-cameras, tons of RAM, and a slim design.
And while we know about the device itself, we think that we might know a bit about the launch event as well. Samsung, like Apple, is fairly predictable when it comes to launch events and it's now time to take a look at what we expect from the Galaxy Note 2 event that's set for 7PM EST in New York City.
A Live Stream
The Samsung Galaxy Note 10.1 event in New York City and the Galaxy Note 2 event in Germany both had live streams so that those who won't be attending, but want to follow along with the action, can do so.
https://youtu.be/KLgprLasnNM
There is quite a bit of interest in the Galaxy Note 2 in the United States and because of that, we expect Samsung, even if the event isn't as big as say a worldwide launch, to provide a live stream of the event that consumers can use to snag the details.
We imagine the company will provide a link as we get closer to the event. This of course isn't 100% certain but we expect it to happen given the company's history.
Straight-Forward Event
While there is quite a bit of interest in the Galaxy Note 2 here in the United States, especially since it's headed to five carriers, we expect the event to be more on par with the Galaxy Note 10.1 event and not the Galaxy S III or the Galaxy Note 2's original launch which had symphonies and magicians.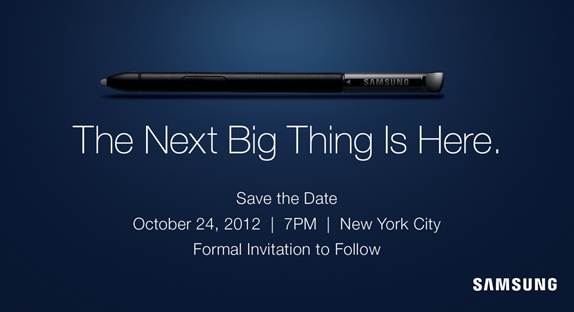 There will likely be a large screen and a bunch of executives that will come on stage, but we don't think it will be of the same magnitude of the other events, especially since it has been only a little more than a month since Samsung announced the Note 2 at a huge Unpacked event in Germany.
Specific Release Dates
As I said, the Galaxy Note 2 variants for AT&T, Sprint, T-Mobile, Verizon and U.S. Cellular have all passed through the FCC on their way to their respective carriers. In addition, U.S. Cellular currently has the Galaxy Note 2 up for pre-order and has said that it's expecting to launch the device in October.
Samsung originally said November but October remains possible for at least U.S. Cellular.
That being said, we expect Samsung to divulge details about the release dates on all of these carriers, whether they all share a similar date, or not. With the Galaxy S III launch, the carriers had different release dates so it's possible that something similar will happen here but now that they have all passed the FCC and the Galaxy Note 2 is available elsewhere in the world, and on top of that, we have a release window, we should see specifics on October 24th.
Pricing
Like the release date, we also expect Samsung to reveal the pricing of the Galaxy Note 2 across the board. We know that U.S. Cellular is offering the Galaxy Note 2 up for $299.99 on-contract and we can't see the other carriers launching their variants for anything more expensive than that.
AT&T launched the original Galaxy Note at that price and it's possible that the Galaxy Note 2 will debut with the same price just under a year later.
More Pre-Orders
U.S. Cellular is the only carrier that's offering up pre-orders. We expect that to change later this month and given that Samsung has said November, it's possible that we might see pre-orders begin on October 24th ahead of the Galaxy Note 2's release date.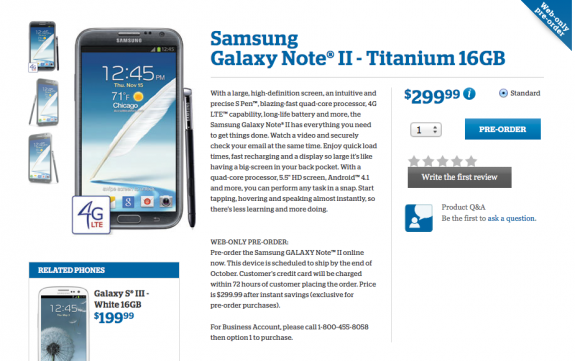 This will give those who want the Galaxy Note 2 on its release date a chance to make that happen. It's possible that Samsung may release the Galaxy Note 2 close enough to the event where a pre-order isn't necessary but if it does arrive in November, expect carriers to take some pre-orders later this month.

As an Amazon Associate I earn from qualifying purchases.