Samsung Galaxy Note 2 U.S. Release Date Arrives in 2012
Samsung took the wrappings off of the Samsung Galaxy Note 2 today and while there is lots of interest in the device in the United States, the device unfortunately doesn't have a specific U.S. release date and, as of right now, no official U.S. carriers.
In a statement, the company confirmed that while the Galaxy Note 2 would be coming to the United States, it wouldn't be doing so until later in 2012.
It did not specify a specific month or release date for the Galaxy Note 2 in the U.S. It also did not say what carriers would be taking on the Galaxy Note 2 in the U.S. though we suspect American carriers will make their intentions known soon.
Read: Samsung Introduces Galaxy Note 2 Phablet at IFA 2012.
Here is Samsung's statement that it provided to Engadget:
"Samsung Mobile is planning a U.S. version of Galaxy Note II, which will be available later in 2012. Building on the success of the original Galaxy Note, we're confident that the Galaxy Note II continues to redefine what consumers should expect from their smartphone and delivers a powerful, innovative and unique experience. Exact timing and retail channel availability is not being announced at this time, we will continue to share information as it becomes available."
Clearly, this is not what prospective owners of the Galaxy Note 2 in the United States wanted to hear from Samsung at launch but this is as good as it's going to get, at least at the moment.
Last year, Samsung announced the Galaxy Note at IFA 2011 and released the device in October of the same year. However, it didn't arrive in the United States until February when AT&T launched the phone on its 4G LTE network.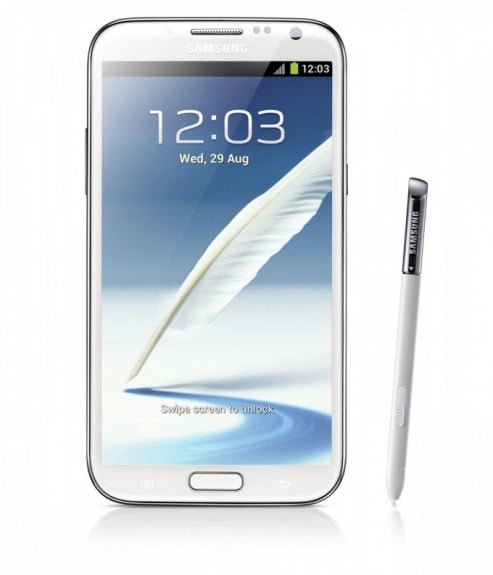 This won't happen with the Galaxy Note 2 as Samsung says that it's coming in 2012, but it could definitely be a month or more before we see it arrive on a U.S. carrier.
The Samsung Galaxy Note 2 features a 5.5-inch display that features 1280×720 resolution with 16:9 aspect ratio, a quad-core processor, 4G LTE and HSPA+, a massive battery and Android 4.1 Jelly Bean, Google's latest mobile operating system.

This article may contain affiliate links. Click here for more details.