Samsung Galaxy Note 2 U.S. Release Date: What Not to Expect
The Samsung Galaxy Note 2 is all but certain to launch in the U.S. on October 24th. Invitations have been sent out for an event in New York City and today, evidence backed up the date as the device's launch date in the United States. At the event, we should finally learn all the details regarding the Galaxy Note 2 release date and its pricing in the United States. Here, we take a look at what consumers should not expect from the Galaxy Note 2's release date here in the U.S.
Last month, Samsung announced the Galaxy Note 2 for the five largest carriers in the United States. That list of course includes AT&T, Sprint, T-Mobile, U.S. Cellular and Verizon Wireless.
We also know what to expect from the device itself. The Samsung Galaxy Note 2 will be the same device found in other regions of the world which means it will offer a 5.5-inch HD display, quad-core processor, 4G LTE data speeds, two cameras, and Android 4.1 Jelly Bean out of the box.
Read: Samsung Galaxy Note 2 U.S. Release Date: What to Expect.
And while we know all of that, we don't know two important details. The pricing, while unknown, looks to be $299.99. U.S. Cellular propped up a pre-order for the device and it costs $299.99, a price that could come to all five carriers.
The release date though remains a mystery. We've already taken a look at what to expect from the Galaxy Note 2 release date and now, it's time to take a look at what not to expect from the Galaxy Note 2 release date in the United States.
October 24th Release Date
On October 24th, Samsung will announce the Samsung Galaxy Note 2 for the United States. The evidence points to this and the invitation that Samsung sent out makes it clear that this is what's on tap for that date in New York City. And from evidence we've seen, T-Mobile plans on launching the Galaxy Note 2 on October 24th. It's unclear if "launch" means announce or release though.
It's entirely possible that Samsung might release the devices very soon after announcing them given that U.S. Cellular has the device up for pre-order and plans to ship it in October. But thus far, it's the only carrier to do and say that. Originally, Samsung said mid-November and I think if that wasn't the case, and October was the month, we would have seen pre-orders pop up across the board.
Read: T-Mobile Galaxy Note 2 Launch Date Looks Good for October 24th.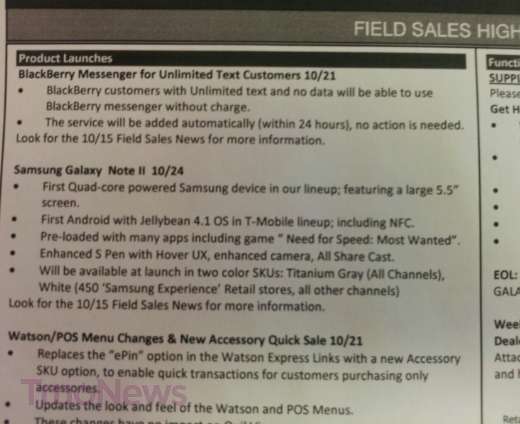 Instead, I think at this point, November is likely going to be the month that we'll see a release. With an iPad Mini release slated for November 3rd, it could be that Samsung waits for that launch to blow over before it releases the Galaxy Note 2 in the U.S.
Also, if it does get released in October, I doubt that it will October 24th given how late the event is. It starts at 7PM EST, long after most stores close so it would be odd to see it launch that day unless Samsung decides to trump its event by releasing it prior to the festivities.
Same Day Release
With the Galaxy S III, we saw scattered release dates. The reason? Probably because of earlier device release dates and commitments. We could see something similar happen here, given that there are many devices rumored for launch in the coming days including the iPad Mini (which may have cellular data) and a host of new smartphones running both Android and Windows Phone 8.
Carriers will be busy and they will want the Galaxy Note 2 release date to stand up on its own. So, for that reason alone I think we may see some differing Galaxy Note 2 release dates among U.S. carriers.
Other scenarios could include things like 4G LTE launches or delays because of supply but I think those are less likely.
A Sell Out
Those who are looking to snag a Galaxy Note 2 on its release date probably won't have a problem. One, Android sell outs are extremely rare. Two, the Galaxy Note 2, while extremely exciting, is still a bit of a niche product given its massive size and stylus.
And three, the possible$299.99 price tag might drive away some potential customers as well, at least in the beginning.
Now, I'm not saying that it's not going to be a success but don't expect the kind of madness that went on, and is still going on, with the iPhone 5 launch on AT&T, Sprint and Verizon.
All Five As Equals
When the Galaxy Note 2 launches on AT&T, Sprint, T-Mobile, U.S. Cellular and Verizon, the device's won't be equals. Sure, they have the same hardware, and same software, but there will be a noticeable difference when it comes to the size of the networks that support it.
All five devices will run on 4G LTE networks, networks that offer speeds that can be 10 times greater than normal 3G speeds. It essentially feels like having Wi-Fi connectivity on the go, something that is perfect for a productivity beast like the Galaxy Note 2 which offers specs of both a phone and a tablet.
However, not all 4G LTE networks are created equal.
Read: iPhone 5: AT&T vs. Verizon vs. Sprint 4G LTE Coverage Maps.
On the Galaxy Note 2's release date, Verizon will be away ahead of the pack in terms of 4G LTE coverage. While it will boast over 300 networks around the U.S., AT&T will have over 50 markets but less than 100 while Sprint will toil away with even less than AT&T.
U.S. Cellular is a regional carrier and it still is deploying its 4G LTE network and T-Mobile won't have a 4G LTE network at all with a release coming at some point in the year 2013.
This all makes for a tough decision and one that consumers will have to make on release date. For many 4G LTE speeds aren't a big deal but I'll tell you what. Once you've used a 4G LTE device, it's hard to go back to anything else.

As an Amazon Associate I earn from qualifying purchases.