Samsung Galaxy Note 2 U.S. Release Date: What to Expect
On October 24th, Samsung will debut the Samsung Galaxy Note 2 in the United States and presumably share all of the juicy details that U.S. consumers have been waiting for. And while we have already shared our thoughts on the event itself, it's time to take a look at what to expect from the Galaxy Note U.S. release date itself.
Samsung has sent out media invites for an event set to take place in New York City on October 24th where the company will very likely announce the final details regarding the Galaxy Note 2 launches on AT&T, Sprint, T-Mobile, U.S. Cellular and Verizon.
Read: Samsung Galaxy Note 2 U.S. Release Date: Another Clue Emerges.
As of right now, we know all about the device itself. It will be coming with a massive 5.5-inch HD display that offers support for the devices S-Pen stylus. It will pair a quad-core processor with 4G LTE data speeds, something that is, as of yet, non-existent in the U.S. It will offer two cameras, one in the rear and one in the front. And, it will come with Android 4.1 Jelly Bean, Google's new operating system. The design will be the same as the international version that launched earlier this month.
All of that we know.
What we don't know is when the U.S. carriers plan to release the device exactly. We've seen a few clues but thus far, pricing and release dates remain mysterious.
Read: Samsung Galaxy Note 2 U.S. Launch Date: What Not to Expect.
That doesn't mean we can't make some predictions about the Galaxy Note 2 U.S. release date though and it's time to do just that. Here is what we expect from the Galaxy Note 2's release date here in the United States.
Specifics at the Launch Event
As we've already told you, those who are looking forward to the release date of the Galaxy Note 2 in the U.S. should expect to hear details about it at the launch event on October 24th.
Samsung has already shown off the device, both abroad and in the U.S., and the device has already launched in places like the United Kingdom. That means that the event on October 24th is going to be used mainly as a way for Samsung to drum up attention for its new 5.5-inch phablet device.
We also expect it to be used as a way for Samsung to relay the final information regarding the device's launch on the United States' five largest carriers.
Multiple Release Dates
Samsung seems to be modeling its Galaxy Note 2 launch after the Galaxy S III launch. We have one device launching on multiple carriers and we have multiple carriers this time around instead of just AT&T.
When the Galaxy S III launched, it did so on all five of the same carriers. However, each carrier had a different launch plans which meant different release dates.
Read: T-Mobile Galaxy Note 2 Pictures Surface.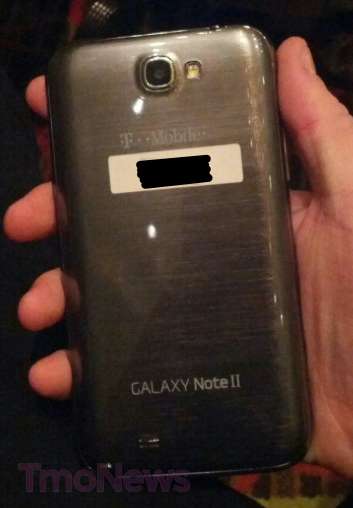 With the Galaxy Note 2, we expect the same thing to happen. It may be that they launch within a few days of each other, but we fully expect at least one or more of these carriers to have a differing launch date from the others.
Late October/Early November
As for the release dates themselves, it's clear that late October or early November are the likely windows for the Galaxy Note 2 release date or release dates.
First, we heard that U.S. Cellular might be launching the Galaxy Note 2 in October. U.S. Cellular was one of the last to release the Galaxy S III so unless it's first this time or plans change, it may be that all carriers launch the Galaxy Note 2 shortly after the event on October 24th.
If that's not the case, we don't expect them to launch the device too long after the event ends, given that the holiday season is coming up and they will want to maximize profits.
That means that an early November release window is likely should late October not come to fruition.
Lots of Demand, Especially At Verizon
We fully expect these devices to fly off shelves on release day, especially the Verizon Galaxy Note 2 which may become hard to find if the carrier decides to launch a pre-order. Many, many users were furious with Verizon for not offering the original Galaxy Note and now that the Note 2 is coming to its 4G LTE network, plenty of people will be glad that they waited.
We also expect demand to be high at AT&T and Sprint. AT&T now offers a larger 4G LTE network and Sprint customers have been waiting for a Galaxy Note offering for quite some time as well.
Users looking to get a device on its release date shouldn't expect a sell out though. The device will likely be available across the board on its release dates.

As an Amazon Associate I earn from qualifying purchases.