Samsung Galaxy Note 2 Verizon Price Leaks
While the four other Samsung Galaxy Note 2 U.S. carriers have disclosed the Galaxy Note 2 price, Verizon remains mum on a Galaxy Note price or release date. However, thanks to a leaked Minimum Advertised Price (MAP) sheet, it looks like we might finally have a Samsung Galaxy Note 2 Verizon price.
In addition to the Verizon HTC DLX information, the Android Central MAP sheet leak also reveals an extremely important detail regarding the Verizon Galaxy Note 2, which while official, still doesn't have pricing or a release date.
The MAP indicates that Verizon, like AT&T, Sprint and U.S. Cellular will likely be offering the Galaxy Note 2 for $299.99 on-contract. This was expected, but now it looks like it will be the case. This means that those who are looking to pick up the new phablet will have to shell out a minimum of $300 to secure the device on-contract.
Read: Samsung Galaxy Note 2 U.S. Release Date by Carrier.
T-Mobile is the only carrier it seems to be offering the device for a price more expensive than $299.99. Instead, it will be offering it for $370 after a $50 rebate, a much more expensive price tag then the other four.
The sheet also lists an October 24th date for the MAP starting date, but we doubt that Verizon will launch the Samsung Galaxy Note 2 today. Instead, the release date still remains unclear and that means that it could either launch in October, or like AT&T, sometime in November.
Hopefully, we'll know for sure tonight as Samsung is scheduled to take the stage in New York and show off the Galaxy Note 2 for the first time to customers in the United States. Kanye West will be in attendance and we should see some nice informational nuggets come out of the event.
Read: Samsung Galaxy Note 2 vs. iPad mini.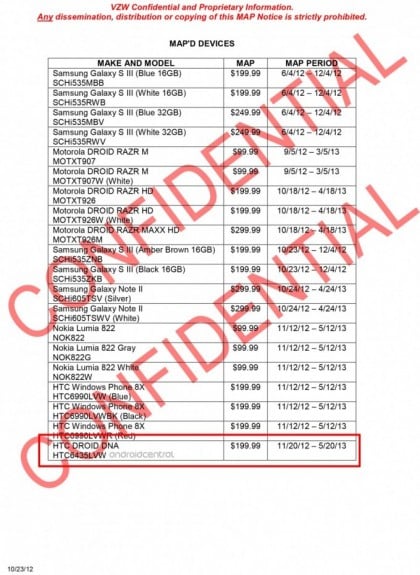 As for the other four carriers, AT&T will be releasing its Galaxy Note 2 on November 9th, Sprint on October 25th, U.S. Cellular at an unknown date and T-Mobile, currently has its Galaxy Note 2 up for sale, the only one of the five carriers to have officially released it.
The Samsung Galaxy Note 2 is the latest phablet device from Samsung and it features a 5.5-inch HD display, quad-core processor, 4G LTE data speeds, S-Pen stylus, and Android 4.1 Jelly Bean.

As an Amazon Associate I earn from qualifying purchases.