Samsung Galaxy Note 2 vs. LG Nexus 4
Two of the biggest Android launches left in 2012 include the Samsung Galaxy Note 2 U.S. launch and the launch and eventual release of the new Nexus phone, thought to be called the LG Nexus 4. Both will be competing against each other for sales this holiday season and here, we take a look at how this year's likely Nexus smartphone matches up against the Samsung Galaxy Note 2 phablet.
In August, Samsung announced the Samsung Galaxy Note 2, the follow-up to the widely successful Samsung Galaxy Note which took the smartphone world by storm over the past year going on to sell more than 10 million units worldwide. Samsung has made some major upgrades to the device which should make the massive phablet an attractive option for owners this year.
Read: 8 Ways the Samsung Galaxy Note 2 Beats the iPhone 5.
The Galaxy Note 2's competition this year will be fierce and one of the combatants will be Google's yearly Nexus smartphone which all indications say will be a smartphone made by LG, dubbed, the Nexus 4.
The LG Nexus 4 is rumored to be replacing last year's Nexus smartphone, the Samsung Galaxy Nexus, and it will mark the first time a company not called HTC or Samsung will have made a Nexus.
Read: 8 Ways the iPhone 5 Beats the Samsung Galaxy Note 2.
Like the Galaxy Note 2, the LG Nexus 4 brings some extremely attractive features to the table, features that Google and LG are hoping will make it a hit with customers this holiday season.
So, in an effort to paint a clear picture for those that are considering both as their next smartphone, we want to take a look at how the Samsung Galaxy Note 2 stacks up against the LG Nexus 4.
Release Date
The LG Nexus 4 release date remains a mystery, and likely will be until Google makes Android announcements at an event scheduled for October 29th in New York City. There, Google will likely unveil the Nexus 4, and most likely other hardware and new software as well, and we should find out about the LG Nexus 4 release date then.
We have heard that Google might be looking at a same day release, same way it launched the Nexus One, which means it could appear on the Google Play Store on October 29th. We've also heard that the device might be coming to carriers, specifically, French-carrier SFR but carrier launches generally take place long after Android announcements.
Read: 5 Thoughts on the Samsung Galaxy Note 2 U.S. Release Date.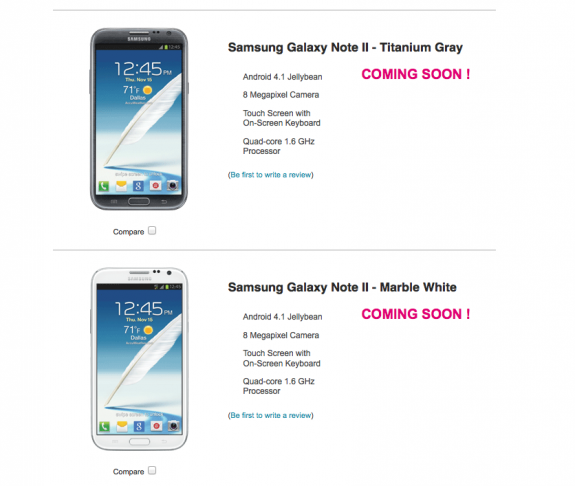 In SFR's case, it's not expected to see the device launch until December. So, that could mean that if Sprint or Verizon carriers this device, it may be a month or more before the variants arrive.
The Samsung Galaxy Note 2, while official, is still a bit of a tricky situation. The Galaxy Note 2 U.S. release date remains a mystery for for of the carriers that will be getting the Galaxy Note 2. While the Galaxy Note 2 release date on AT&T, T-Mobile, U.S. Cellular and Verizon remains unknown, we do know that Sprint will be getting the device on October 25th.
We fully expect other carriers to launch soon after the October 24th launch date as well, but thus far, no rumored release dates have leaked.
Display
One of the unique qualities of the Samsung Galaxy Note has always been its massive display that is larger than the typical smartphone and but only slightly smaller than some of the tablets on the market. Thus, why it is dubbed a "phablet." With the Galaxy Note 2, Samsung has increased the size of the screen from 5.3-inches to a massive 5.5-inch Super AMOLED HD display.
The resolution of the Galaxy Note 2 display will stand at 1280 x 720, which makes it HD. It will also feature 265 pixels-per-inch which is down from the original. Given the size of the display though, text should still be clear. The aspect ratio of the Galaxy Note 2′s display is 16:9 which means that users can watch true widescreen content.
Read: New Nexus Phone: Everything We Think We Know.
The LG Nexus 4 display will be no slouch either. In fact, it too will be one of the allures of the device. It's said to feature a 4.7-inch True IPS display that comes with 1280×768 resolution which means that it will be full on HD.
It's also said to have 320 pixels-per-inch which could mean that the display is on par with the iPhone 5's Retina display in terms of clarity of text and images.
Design
Samsung's Galaxy Note 2, with its massive display, will come with an equally massive footprint. The Galaxy Note 2, while slimmer than the original also weighs around the same. Specifically, the measurements are 151.1 x 80.5 x 9.4mm with a weight of 6.35 oz which is equal to 180 grams, very heavy for a smartphone.
Again, Samsung has graced the Galaxy Note with a plastic design though this time around, the device resembles a massive Galaxy S III with its rounded corners. That fortunately is a good thing and an upgrade over the previous model.
It also has a single elevated home button situated in the middle-bottom of the device.
The LG Nexus 4 also appears to be constructed from plastic and features a design that is very similar to the one found on the original Galaxy Nexus. However, instead of the hump, the LG Nexus 4 has a flush back that might be made of scratch-resistant material.
It features a 9.1mm design, which is slightly thicker than the Galaxy Nexus and it weighs 139 grams which is slightly heavier than the previous Nexus. It is though, much lighter than the Galaxy Note 2's design.
Specs
As for the rest of the specifications, the two devices do have some things in common and feature improvements over the previous incarnations of the devices. Here is a run down of the specifications expected to arrive with the LG Nexus 4.
4.7-inch display with 1280×768 resolution
1.5GHz Quad-core APQ8064 Processor (Translation: Snapdragon S4 Pro)
16GB/8GB Storage
8MP camera/1.3MP front-facing
2100mAh battery
2GB of RAM
And here are the key Galaxy Note 2 specifications:
5.5-inch display with 1280×720 resolution
1.6GHz Quad-core Exynos Processor
16GB/32GB/64GB Storage
8MP Camera/1.9MP front-facing
3100mAh battery
2GB of RAM
S-Pen
NFC
Comparing the two, here are the main differences. First, the Galaxy Note 2 will likely feature more storage options that the Nexus 4. Something else that could be a problem with the Nexus 4 is the lack of a microSD card slot, common on Nexus devices, which would mean that users would be stuck with 8GB or 16GB.
Also of note, the battery sizes. While the Galaxy Note 2 employs a massive battery which should be able to handle 4G LTE and its large display with ease, the Nexus 4's battery is much smaller. The Nexus 4's inspiration, the LG Optimus G, has great battery life so it could be that it won't matter.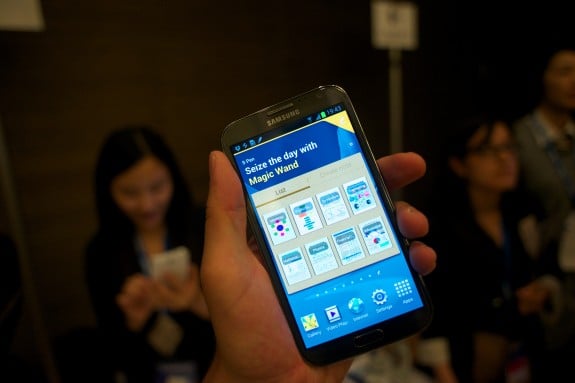 The Samsung Galaxy Note 2 also comes standard with an S-Pen stylus that allows users to write and draw directly on the screen. It's also equipped with unique software like S-Note, which is a simple note taking app designed for the S-Pen in particular. The Galaxy Note 2's upgraded S-Pen features an ergonomic design as well to help keep users comfortable.
Camera
Both the Galaxy Note 2 and LG Nexus 4 will feature a rear camera and a front-facing camera. Both will offer up 8MP rear cameras that appear to be good but not great while the Nexus 4 will have a 1.3MP front-facing camera for video chat as opposed to the Galaxy Note 2's 1.9MP camera in the front.
Those expecting mind-blowing cameras on these sequels are going to be disappointed as it looks like both Samsung and LG have equipped them with similar cameras to their predecessors in terms of quality.
Below, is a shot taken with the LG Nexus 4.
And here, is a shot taken with the Galaxy Note 2 camera.
Software
The Samsung Galaxy Note 2 will be arriving with the current version of Android, Android 4.1 Jelly Bean. Android 4.1 Jelly Bean is far and away Google's best version of Android yet and it features an extremely fast UI, better notifications, more Face Unlock options, an improved browser and more. You can check out some of the best features of Jelly Bean in the video below.
The fact that it will be arriving with Jelly Bean also means that the Galaxy Note 2 is future proof. What we mean is that it will be, at the very least, getting the next major Android update and knowing Samsung, it will get another after that.
Additionally, the Galaxy Note 2 will come with not only Samsung's TouchWiz UI over the top of Android, but also some unique qualities as well.
For example, the Galaxy Note 2 features an app called AirView which will show users a preview of emails, and calendar entries by hovering the S-Pen over the display. It'll also offer something called Quick Commands which lets owners write out phone commands for calling people or writing emails. The Galaxy Note 2 will also come with another feature called split screen multitasking which will allow users to split the large display up to use two apps at once.
https://www.youtube.com/watch?feature=player_embedded&v=hOX3HYDwTCY
Google's LG Nexus 4 will also have some unique software. Firstly, it might arrive with Android 4.2, which would be a new version of Android. It'll feature some new features, one that might be on display in the video below, but thus far, it's a relative mystery.
However, it will definitely be coming with a vanilla version of Android, no matter what the version is. The Nexus device always come with a user interface of any kind which makes for a much cleaner, smoother Android experience.
Carriers
The Samsung Galaxy Note 2 will be heading to the five largest carriers in the United States. That list includes AT&T, Sprint, T-Mobile, U.S. Cellular and Verizon. This is a huge step up from the original Galaxy Note which only became available on AT&T and for a short time, on T-Mobile as well. It's presumed that all five will be offering the device on their 4G LTE networks though T-Mobile, which doesn't yet have an LTE network in place, remains a bit of a mystery.
We expect, based on an FCC filing, that T-Mobile will future proof its device for next year's LTE launch, but the carrier hasn't made that info known. Until then, the device will likely have to rely on HSPA+.
In any event, all five carriers have different sized networks. While T-Mobile has no 4G LTE in place, Verizon's 4G LTE network is currently in over 400 markets across the United States, trumping the networks of AT&T and Sprint, both of which feature under 100, and U.S. Cellular which is only available in a few regions.
The Nexus 4 carrier situation is tricky at the moment. We expect Google to, at the very least, release a GSM unlocked model which will work with the HSPA+ networks of AT&T and T-Mobile.
However, we don't know if there will be a 4G LTE model released further down the road. We expect there to be, but at this point, there is very little evidence.
Price
Only two carriers have confirmed the price of the Samsung Galaxy Note 2, though we expect that the other carriers will fall in line with the pricing. Both U.S. Cellular and Sprint have confirmed the Galaxy Note 2 price, saying that they will be charging $299.99 for the device on-contract. While U.S. Cellular specifies that it will be charging that for the 16GB model, Sprint doesn't say whether it's for the 16GB or something else.
At this point, we expect that to be the entry level pricing for Sprint, which means the 16GB version. We also expect that AT&T, T-Mobile and Verizon will follow suit and charge exactly the same for the Galaxy Note 2 when it arrives.
Off-contract pricing remains a mystery thus far.
The LG Nexus 4 price remains shrouded in mystery as well though we expect it, based on the plastic design and storage options, to be extremely competitive. Google sells the Galaxy Nexus for $349 off-contract and we expect that price for the LG Nexus 4, or perhaps, something a lot lower given the storage space.
We still don't know pricing on a 4G LTE version because it's unclear if there is a 4G LTE version but again, we expect that it will be fairly low if and when it launches.