Samsung Galaxy Note 2 vs. Samsung Galaxy Note
On October 24th, Samsung will take the stage in New York City to announce the Samsung Galaxy Note 2 here in the United States. The device, which was originally announced back in August, will be replacing the original Galaxy Note which hit AT&T earlier this year. The Galaxy Note 2 phablet is an extremely exciting device, but how does it match up against its predecessor? Read on to find out.
In 2011, Samsung took the stage at an event at IFA and announced the Samsung Galaxy Note, an ambitious new smartphone that featured a 5.3-inch display to go along with a S-Pen stylus which allows users to draw and write directly upon the display. The release was ambitious because many people didn't think the Galaxy Note would succeed in the cutthroat smartphone market.
Read: Samsung Galaxy Note 2 U.S. Release Date: What to Expect.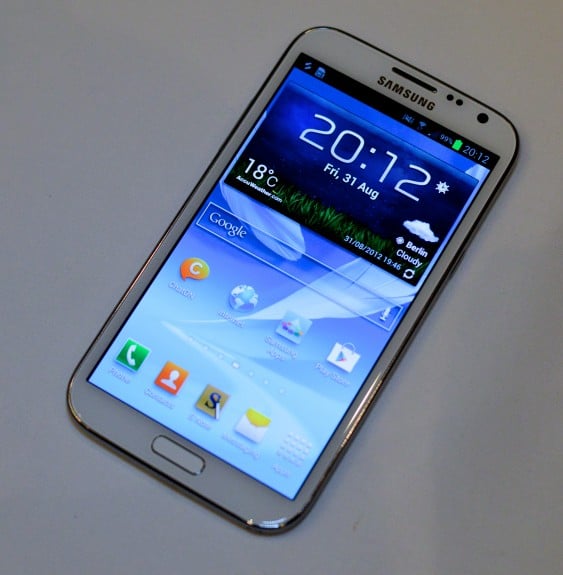 Of course, we now know that Samsung went on to sell over 10 million Galaxy Note's worldwide, success that not only spawned the Galaxy Note 2 sequel, but prompted all five major U.S. carriers to carry the Galaxy Note this time around.
The original Galaxy Note is less than a year old in the United States and with what it has on board, it's still a viable option for many consumers. We also still consider it one of the 5 Best Android Smartphones on the market right now. That being said, let's see how it stacks up against the Galaxy Note 2 sequel.
Release Date
All the way back on February 19th, AT&T launched the original Galaxy Note, a device that marries the features of both a smartphone and tablet. And while there was some initial skepticism, reviews of the Galaxy Note were positive and the device took off. In fact, we gave it an Editor's Choice award.
And while the device spent most of the year on AT&T, in August, it arrived for T-Mobile, a highly anticipated launch until it became clear that the Galaxy Note 2 was on the horizon. Very quickly, the Galaxy Note vanished from T-Mobile's shelves and as we learned, it was because of the Galaxy Note 2.
Read: Samsung Galaxy Note 2 U.S. Release Date Could Land in October.
The Samsung Galaxy Note 2, despite having a launch date in the U.S. and despite already being available in other parts of the world, still doesn't have a U.S. release date. We expect that to change on October 24th at an event in New York City where AT&T, Sprint, T-Mobile, U.S. Cellular and Verizon will all launch the device.
Now that doesn't necessarily mean that October 24th is the Galaxy Note 2 U.S. release date but given that Canada will get the device on October 30th, we could see the device hit the U.S. this month.
Samsung originally said mid-November but until October 24th arrives, anything is possible.
Display
One of the unique aspects of the Samsung Galaxy Note is its large screen which has lead many to characterize the device as a phablet rather than a tablet or a smartphone. The original Galaxy Note brought along a 5.3-inch Super AMOLED HD display which features 1280 x 800 pixel resolution, 16:10 aspect ratio, and a 284.8 ppi. The screen is vibrant and it did well in the sunlight.
Additionally, as you might expect from a 5.3-inch display, it was fantastic for watching movies or watching other media content while on-the-go. In fact, the viewing angles on the device are so wide that it's easy to share content with a companion.
Needless to say, it's a vastly different experience from most smartphones.
Sadly, Samsung didn't do much with the Galaxy Note 2's display other than bump the screen size up to 5.5-inches. The resolution checks in at 1280 x 720 and features a lower, 265 PPI. The aspect ratio is 16:9 which means that it will allow users to watch true widescreen content.
Design
The original Galaxy Note design featured a lot of plastic and a rectangular design. With the Galaxy Note 2, Samsung still uses a lot of plastic, but it has shifted the design to look more like the Galaxy S III smartphone. Which is a good thing.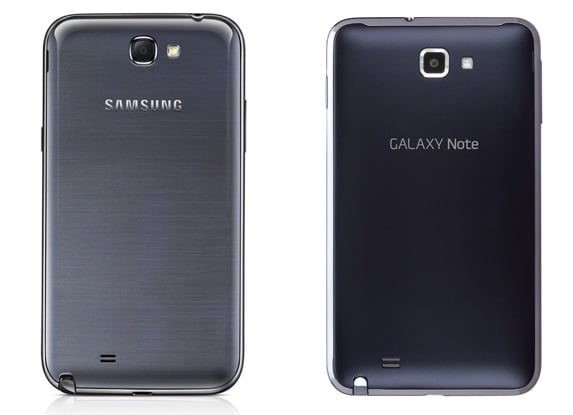 In addition, the new Galaxy Note 2 is a little taller than the original but also is slimmed down a bit. Here is how the design elements of both devices stack up against each other:
Galaxy Note 2 – 151.1 x 80.5 x 9.4mm – 6.35 oz.
Galaxy Note – 146.9 x 83 x 9.7 mm – 6.28 oz.
The Galaxy Note 2 is a little heavier than its predecessor but with a larger display and bigger battery, it's worth the trade.
Specs
The Samsung Galaxy Note 2 brings a ton of upgraded specifications to the table including a faster processor, larger battery, more RAM and a new S-Pen that has been improved over the last version.
Starting with the processor, the Galaxy Note 2 uses a 1.6GHz Exynos quad-core processor while the original Galaxy Note features a 1.4GHz Exynos dual-core processor. The quad-core processor, paired with the 2GB of RAM, should make the Android experience on the Galaxy Note 2 a flawless one. The original Galaxy Note only packs 1GB of RAM.
Samsung also has included several storage options with the Galaxy Note 2, something that should thrill consumers. Whereas the original was stuck with 16GB of storage space, the Galaxy Note 2 will come with 16GB, 32GB and 64GB variants. It will also have microSD card support which will allow users to get up to 128GB of storage space on the phablet.
The Galaxy Note 2 will feature Bluetooth 4.0 support which means better battery life for Bluetooth supported devices and it will also feature NFC. NFC allows the phone to be used like a mobile wallet in conjunction with services like Google Wallet.
The original Note had NFC but not Bluetooth 4.0.
Another change to note is the larger battery inside the Galaxy Note 2. The original Galaxy Note had a 2,500 mAh battery which provided decent but not great battery life. The Galaxy Note 2 offers a much larger 3,100 mAh battery which should help to harness the display and the devices 4G LTE data speeds which offer speeds up to 10 times faster than 3G.
The Galaxy Note 2 also features an upgraded S-Pen with a rubber tip. The new S-Pen boasts 1024 levels of pressure sensitivity, and some features that are not found on the Galaxy Note for AT&T and T-Mobile.
For instance, when users take the S-Pen out of its holder, the Galaxy Note 2 will pop up a note pad for quick note taking. It also includes shortcuts to other S-Pen apps. Other upgrades include an app called AirView which will show users a preview of emails, calendar entries by hovering the S-Pen over the display. It'll also offer Quick Commands which lets owners write out phone commands for calling people or writing emails.
Camera
Many consumers were hoping that Samsung would do something stellar with the Galaxy Note 2's cameras, the Galaxy Note has decent but not great cameras, but the company did not deliver.
The cameras on the Galaxy Note 2 are 1.9MP for the front and 8MP for the rear. The Galaxy Note boasted the same 8MP camera in the rear but had a 2MP camera up front. The cameras should offer the same type of quality though the Galaxy Note 2 and the shutter speed on the Galaxy Note 2 is said to be fast.
Below, is a photo shot with the Galaxy Note 2.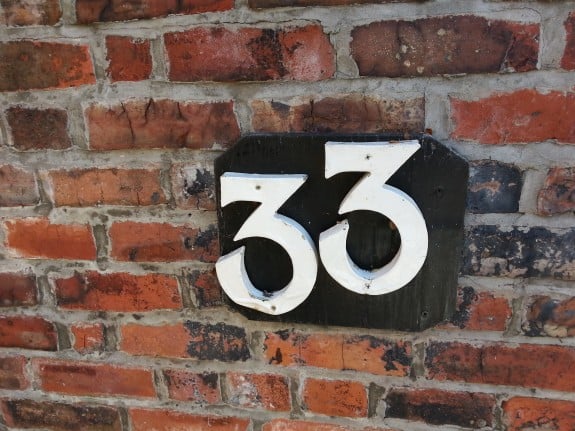 And here is a photo taken with the Galaxy Note.
Software
The Samsung Galaxy Note is still running Android 4.0 Ice Cream Sandwich. And while it has been promised an update to Android 4.1 Jelly Bean, there is no telling when that update might arrive.
The Samsung Galaxy Note 2 on the other hand will have no such issues as it sports Android 4.1 Jelly Bean right out of the box. Jelly Bean is far and away better than Android 4.0 Ice Cream Sandwich and some of the better features can be seen in the video below.
AT&T may update its Galaxy Note with Android 4.1 this year but after that, it's a toss up as to whether it will get any other large Android updates.
Carriers
The Samsung Galaxy Note is still widely available for AT&T's 4G LTE network and it still can be found for T-Mobile's HSPA+ network though stock is virtually non-existent. Even T-Mobile stopped selling it soon after launch.
As for the Galaxy Note 2, it will be available across the board. AT&T, Sprint, T-Mobile, U.S. Cellular and Verizon will all be launching the device on their 4G LTE networks. T-Mobile still hasn't confirmed 4G LTE support but we know that it will be future proofed thanks to an FCC filing.
There are a few things to think about though in terms of carriers. One, 4G LTE access. While Verizon just announced 4G LTE in 400 markets, Sprint has just 24 4G LTE markets and AT&T's only has around 80. U.S. Cellular's network is much smaller as its a regional carrier.
In addition, we imagine that Verizon will lock the bootloader on its device, like it did with the Galaxy S III, which means owners will likely not be able to install custom ROMs. The other models will likely not face this kind of lock down.
Price
Last but not least, price. The Samsung Galaxy Note originally arrived for $299.99 on AT&T. Since its release, the price at AT&T has dropped to $199.99 on-contract. The device can also be found for $150 at Amazon, much cheaper than AT&T's asking price.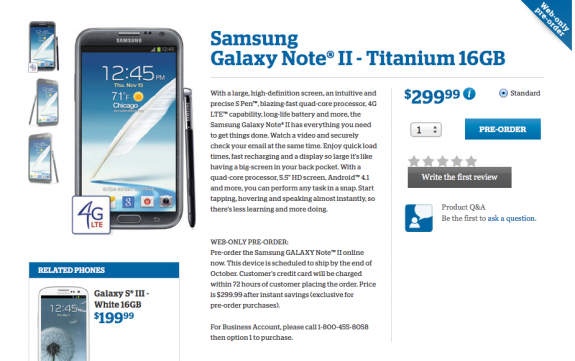 Those price tags are likely to be much cheaper than the Galaxy Note 2's pricing. U.S. Cellular priced the Galaxy Note 2 at $299.99 on-contract and there is no reason to believe that any of the other carriers will do something different.
This means that the 32GB and 64GB models of the Galaxy Note 2 might be extremely expensive. Just how expensive? We'll likely find out on October 24th when Samsung announces the devices.

As an Amazon Associate I earn from qualifying purchases.