Samsung Galaxy Note 3 Google Play Problems Frustrate Users
It appears that at least some new Samsung Galaxy Note 3 users are encountering Google Play issues wherein the device is unable to download applications from the Google Play Store. And while it's not the sort of greeting Galaxy Note owners were expecting to see out of the box, there is a fix that should help return the Google Play Store to normal.
Earlier today, T-Mobile released the Samsung Galaxy Note 2 onto its 4G LTE network becoming the first carrier in the United States to release the big screened smartphone. Those who ordered the AT&T Galaxy Note 3 also received their Galaxy Note 3 today ahead of the device's official October 4th release date later this week.
Read: Samsung Galaxy Note 3 Launch Far From Over.
Those who have flipped on their Galaxy Note 3 today have apparently encountered issues with the Google Play Store. Our AT&T Galaxy Note 3 has been inundated with issues since turning it on earlier today and we have run into a number of different errors including errors downloading applications, general server errors and the dreaded Google Play Error [RPC:S-5:AEC-0].
The errors have produced a rocky start for our AT&T Galaxy Note 3 and rocky starts for other Galaxy Note 3 owners who are trying to install and update their applications on the Google Play Store.
It's not clear what is causing the issues, or if they are related to the Galaxy Note 3 launch, but there is a way to solve at least one of the issues that Galaxy Note 3 owners are dealing with.
Google Play Error [RPC:S-5:AEC-0] is not an uncommon issue with Android users and it's one that has a known fix that Galaxy Note 3 owners will want to try before throwing their device against the wall in frustration.
In order to fix the Google Play error [RPC:S-5:AEC-0], users will need to remove the Google account and re-add it. If there are multiple Google accounts, remove them all by repeating the directions below.
To get started, go to Settings. Once in settings look for Accounts. The location varies from device to device, but it is normally near the middle of the main settings page.
Once on accounts, tap on Google Accounts.
In Google Accounts, scroll down and tap Remove.  When prompted agree to the pop-up warning that this will remove the account.
Close Settings.
Next tap on Google Play. Agree to the terms and conditions.
When prompted tap on Existing Google Account and sign in to your Google account.
After this is completed, updates should start working immediately. If they don't, try restarting the phone. On our Galaxy Note 3, it the issue stopped after we restarted so this is highly recommended.
Once downloads are working, we need to go turn on syncing for the Google account. Go to Settings, Accounts, Google accounts, Tap on your account and then put a checkmark next to any service you use, like Gmail, calendar, contacts etc. This will turn syncing on and get the phone back to where it was before we removed the account.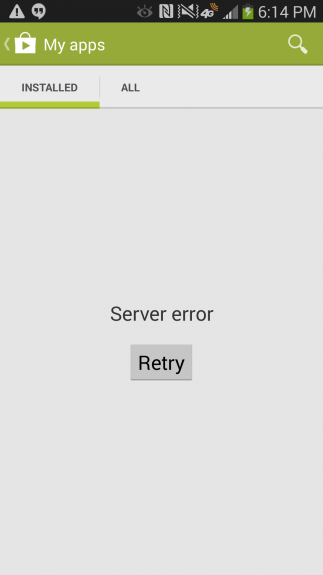 Even after getting rid of this issue, we still have encountered the occasion server error on the Google Play but we have been able to download and update most of our apps since taking care of the Google Play error [RPC:S-5:AEC-0].
We did encounter the same issues with an HTC One running on T-Mobile's network.

This article may contain affiliate links. Click here for more details.