Samsung Galaxy Note 3 in Rose Gold Heads to Verizon
It may not be like Motorola in over 18 different color and customization options, but the Samsung Galaxy Note 3 is finally getting a few more colors with Rose Gold headed to Verizon Wireless.
While we've yet to hear an official announcement from Samsung or Verizon, this week Samsung's own site shared all the details on the new exclusive Rose Gold Galaxy Note 3 for Verizon Wireless only, and it looks pretty stellar. We saw multiple new colors back in December, but none are available in the US quite yet, but this should be coming soon.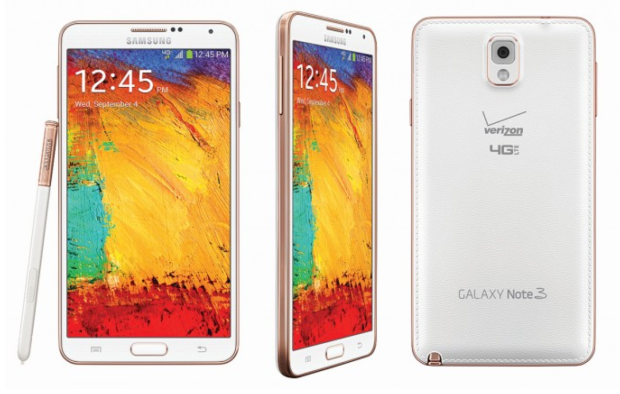 Shown above is the new Rose Gold color option of the Note 3, available in what will likely be black and white trims, with the gold accents and additions to keep things classy. Sadly the entire device isn't gold, like we've seen with a few HTC devices as of late, nor is the back, and instead only the sides.
There's also a Merlot Red version they announced in December, but we've yet to see that launch on stateside, and for those looking for an additional color option Rose Gold may be your only option and it's only available from Verizon.
Read: How to Use the Galaxy Note 3 With Gloves
According to AndroidCentral the Gold version could arrive before the end of January, and you'll be able to get it for $100 off the regular version thanks to a rebate from Verizon Wireless. As a reminder users will enjoy the same 5.7-inch flagship Android 4.3 Jelly Bean powered smartphone complete with a quad-core processor and that stylus for creating content. More details regarding the Galaxy Note 3 can be found below.
Read: Samsung Galaxy Note 3 Review