Samsung Galaxy Note 3 Launch Far From Over
Samsung recently confirmed a device with a curved flexible display for this year and it's looking like the Samsung Galaxy Note 3 limited edition that is expected to have the display on board is going to be arriving sometime next week though no specific release date has been revealed.
In the days after the Samsung Galaxy Note 3 launch in early September, we heard two curious rumors about two new Galaxy Note 3 variants that were supposedly going to be heading to shelves.
One, a cheaper version of the Galaxy Note 3, set for November, that will be heading to emerging markets. Those markets are still unknown. The other, a limited edition Samsung Galaxy Note 3 with a flexible display, also known as Samsung Youm, something that Samsung showed off alongside the Exynos 5 Octa at CES 2013 in January.
Read: Samsung Galaxy Note 3 Release Date: 7 Last Minute Tips.
Samsung recently confirmed one of those devices, saying that it indeed had plans to release a device with a flexible curved display sometime in October. It did not say what the device was but given the rumors, it's likely going to be a Galaxy Note 3.
A new report from Korean publication DDaily cites Samsung executives who claim that a smartphone with a curved display will be arriving next week. No specific date is mentioned. Given that the device is limited edition, Galaxy Note 3 buyers should not expect it to land anywhere outside of Korea, at least not at the start.
Samsung reportedly has had problems with its Samsung Youm displays, problems that supposedly forced it to abandon the display on the Galaxy Note 3 variants that have recently made it to shelves. T-Mobile became the first carrier in the United States to release the Galaxy Note 3 though AT&T Galaxy Note 3 shipments are expected to arrive today.
The device may never make it out of Korea though its release does suggest a bright future as Samsung may look to include flexible displays on next year's flagship products which may include a Galaxy S5 and a Galaxy Note 4.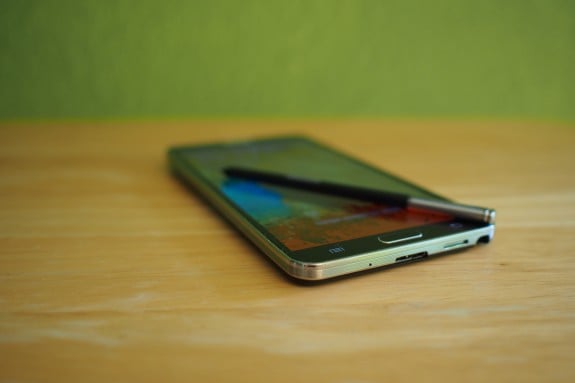 This means that the overall Galaxy Note 3 release date, which first arrived in September for 140 countries and arrived in the United States today, is far from over. Four major U.S. carriers still have to release the device and it looks like the rumors about a cheap Galaxy Note 3 could prove to be fruitful.
Samsung's current Galaxy Note 3 ships with a non-flexible 5.7-inch 1080p AMOLED display, a Qualcomm Snapdragon 800 processor, 13MP camera, Android 4.3 Jelly Bean, upgraded S Pen features, enhanced multitasking and a brand new design that resembles leather and is lighter and thinner than the Galaxy Note 2.

As an Amazon Associate I earn from qualifying purchases.