Samsung Galaxy Note 3 vs. iPad mini 2 (Rumored)
Tomorrow, Apple is expected to debut a brand new 7.9-inch tablet called the iPad mini 2, a device that will replace the original iPad mini as the company's flagship. And while many people are likely comparing it to other tablets, others might be comparing the device to phablets like the Samsung Galaxy Note 3, Here, we take a look at how the iPad mini 2 should stack up with Samsung's brand new phablet.
Last month, Samsung announced its brand new Galaxy Note phablet, the Galaxy Note 3, a device that combines many of the properties of a phone but also throws in a bundled S Pen stylus and a massive 5.7-inch display, one of the biggest smartphone displays on the market. That's of course where the "phablet" name comes from, a combination of a phone and tablet, and a size that is intriguing to many people who are looking to combine that experience into a single device.
Samsung's Galaxy Note 3 takes the place of the Galaxy Note 2 and we found the device to be a worthy successor to Samsung's second-generation Galaxy Note, and a device that should be on the radar of smartphone shoppers in the United States. It's also a device that some people might be comparing to smaller tablets like the upcoming iPad mini 2.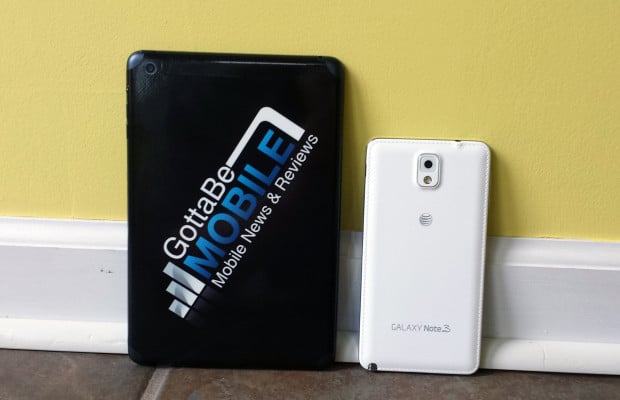 Last year, Apple released an iPad mini to compete with the Nexus 7 and Kindle Fire HD. And while those were its main competitors, we heard from plenty of people who were comparing it to the Samsung Galaxy Note 2. This year, while the iPad mini 2 will be aimed at the hearts of the new Nexus 7 and Kindle Fire HDX, there will be some people that weigh it against the Samsung Galaxy Note 3.
For those people, and for those curious, here, we take a look at how the rumored iPad mini 2 stacks up against the Samsung Galaxy Note 3.
Release Date
The Samsung Galaxy Note 3 hit shelves in the United States in early October which means that it has only been available for a few weeks now. Because Samsung typically only releases one update to its Galaxy Note lineup per year, we expect the Galaxy Note 3 to be widely available through the summer of 2014. Best of all though, it means that buyers can head down to their local store and go hands-on with one should they need to before the iPad mini 2 release.
Speaking of that, the iPad mini 2 release date should land in just a few short days. Apple typically announces a device and tags it with a very specific release date that is only a few days out from the launch. In the case of the iPad mini and iPhone 5s, it was 10 days after launch, meaning, November 1st is looking very good for a release date.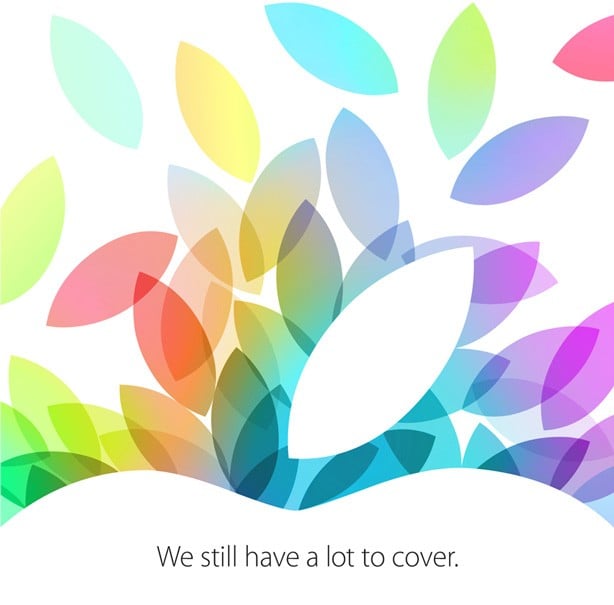 The date will be confirmed at tomorrow's launch and we expect it to be in the vicinity of November 1st despite rumors suggesting that an iPad mini 2 with Retina Display will come in December or in 2014. What this means is that buyers will only have a few days to prepare for its arrival. And if there is a pre-order, even less time.
Apple is likely going to have a thin supply of the iPad mini 2, something that should put even more pressure on consumers to make an early decision about the iPad mini 2, Galaxy Note 3 and more.
Design
The Samsung Galaxy Note 3 design is a little different than past Galaxy-branded smartphones in that instead of a smooth polycarbonate plastic design, the Galaxy Note 3 utilizes a faux leather plastic design that gives the device a more premium look than its predecessors. Because the design is made of plastic, it affords buyers a microSD card slot for up to 64GB of expanded storage and a removable back for use with an extended battery.
Samsung's new Galaxy Note 3 also shaves off some of the size of the Galaxy Note 2, even with the larger display. The design is now only 8.3mm thin and weighs a mere 168 grams. That's fantastic for a smartphone of this size and it makes it far more manageable when carrying it around inside of a pocket as a go-to device.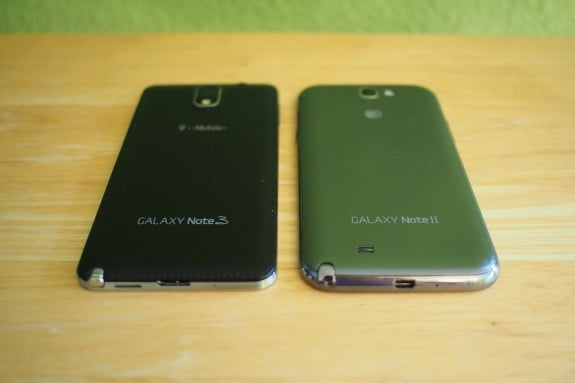 No surprise here, the iPad mini 2 is going to be larger than the Galaxy Note 3. Rumors suggest that the device will be similar in size to the current iPad mini which means that it could check in with a form factor that is around 7.5mm thin and 337 grams in weight. So, the iPad mini 2 should be thinner than the Galaxy Note 3 but it will almost certainly be heavier.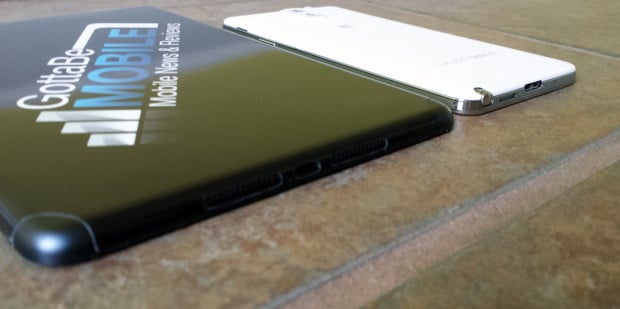 The overall size of the iPad mini 2 should be apparent as well. The original checked in at 200 x 134.7 while the Galaxy Note 3 is 151.2 x 79.2. This is obviously going to be important for those that are thinking about making calls (the iPad mini 2 can use services like Skype and FaceTime Audio) with both devices. Both can be held in one hand but it's the Galaxy Note 3 that should be easier for most users.
As for the build quality, there is nothing to suggest that the iPad mini 2 will use anything different than the premium anodized aluminum build on the original iPad mini.
Display
In addition to the design differences, there should be some when it comes to their displays as well. The Samsung Galaxy Note 3 touts a 5.7-inch 1080p display with 1920 x 1080 resolution at 386 pixels-per-inch. The display is one of the best in the business and produces high quality text, video, images, web and more.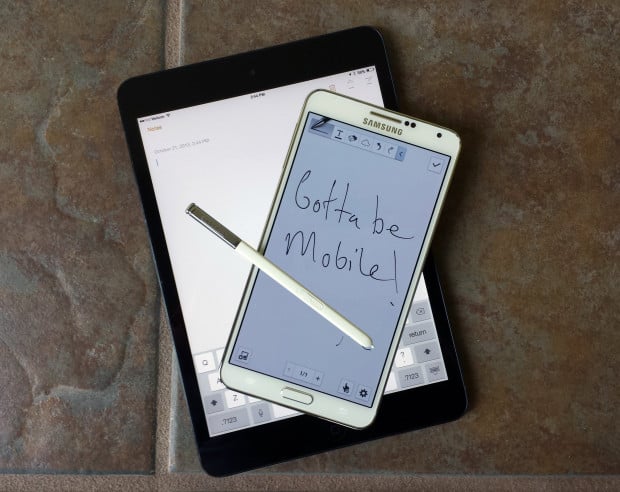 The iPad mini 2 will have a larger display that checks in at 7.9-inches in size, same as the original iPad mini, and it should have 2048 x 1536 resolution at 324 pixels-per-inch with its larger display. Content on the iPad mini 2 should look gorgeous as well so the biggest difference here is likely going to be the screen size with the iPad mini 2 adding two extra inches with its display.
For many that will increase will make a huge difference. For others, a 5.7-inch display is going to be enough for things like gaming, checking email, or getting work done on the bus ride home.
Specs
As for the rest of the specs, we will see some major differences. First, the Samsung Galaxy Note 3 rocks a Snapdragon 800 quad-core processor from Qualcomm. It's a speedy processor and one that delivers high-performance though it does not offer 64-bit support to users.
The Galaxy Note 3 also sports a 13MP camera that can shoot high quality photos and video and improves over the Galaxy Note 2's sensor when it comes to low light images and video. Samsung's Galaxy Note 3 comes in one storage size, 32GB, though it does have space for a microSD card which means users can expand up to 96GB of space.
Finally, the Galaxy Note 3 uses a large 3200 mAh battery that ensure that owners have a ton of battery life during the day and while the device is parked in standby mode as well.
We expect the iPad mini 2 to come with an A7 processor with 64-bit support, something that should help with performance down the road. Both processors are powerful though and should get the job done for average users.
Apple is rumored to have installed an 8MP camera on the iPad mini 2, up from the 5MP camera on the previous model, and a sensor that could put it on par with the iPhone 5. If true, the iPad mini 2 could shoot photos that are comparable to the Galaxy Note 3's.
Unlike the Galaxy Note 3, we expect the device to come in three storage sizes, 16GB, 32GB and 64GB though it's not likely to have a microSD card slot for expanded storage. And as for a battery, it could sport a larger one than the iPad mini, something that is likely necessary with the Retina Display. We expect the iPad mini 2 to deliver fantastic battery life that likely wipes the floor with the Galaxy Note 3. That though, remains to be seen.
Software
Software is going to be maybe the biggest difference between the Samsung Galaxy Note 3 and the iPad mini 2 as they run two completely different operating systems.
The Samsung Galaxy Note 3 runs Google's Android 4.3 Jelly Bean out of the box. The software, that is soon to be replaced by Android 4.4 KitKat, can be seen in the video below. It comes with a host of features and is an improvement over Google's previous versions of Jelly Bean, Android 4.2 and Android 4.1 both of which rolled out last year.
It's Samsung's TouchWiz user interface though that sets the Galaxy Note 3 apart from the other Android devices and other smartphones on the market. The Samsung Galaxy Note 3 has two key software strengths that users will want to hone in on. The first, the bundled S Pen that can take advantage of a variety of applications including powerful note taking functionality (Action Memos, S Note), organizational tools, and easy ways to send content to users. It's more than just an average stylus.
The second, the Galaxy Note 3's powerful multitasking. The Galaxy Note 3 features something called Multi Window View which has been upgraded with the new software on the Galaxy Note 3. The feature, which allows users to run two apps on the screen at once, is a tool aimed at those who need to be extremely productive while out and about.
The software on the iPad mini 2 is going to be powerful as well, it's just going to be a whole lot different. The iPad mini 2 will run Apple's iOS 7 software, which was first released last month, and which brings a number of big time features to the table including improved multitasking, a brand new interface, the new Control Center, improved Notifications and more. The software can be seen in action below.
Unlike the Galaxy Note 3 though, the device won't come with a special stylus, though the screen will be compatible with third-party styli for those that need to write and draw on the screen. Moral of the story is this. Both devices will come with useful software and it will be up to consumers to decide which they feel more comfortable using. For instance, Samsung's software, while useful, is often pegged as confusing and gimmicky. It's all about personal preference since these two operating systems will be so much different.
Carriers
One feature that the Samsung Galaxy Note 3 can boast about is the fact that its available on the five largest carriers in the United States, a list that includes AT&T, Sprint, T-Mobile, U.S. Cellular and Verizon Wireless. All five networks host the device on it their 4G LTE networks which means it will provide users with fast data speeds while on-the-go.
The iPad mini 2 will also come with 4G LTE data speeds though it appears that it may have one less carrier option than the Galaxy Note 3, at least at the beginning. AT&T, Sprint and Verizon are done deals for the iPad mini 2. However, there is reason to believe that T-Mobile will be on board this year with both the iPad mini 2 and iPad 5.
T-Mobile CEO John Legere suggested last week that he's excited for the iPad event and given that is his company now offers the iPhone 5s, we can expect T-Mobile to play host to the LTE versions of the new iPads.
U.S. Cellular finally confirmed the iPhone 5s and iPhone 5c, but there is no sign of a U.S. Cellular iPad mini 2 and iPad 5. While we can't rule one out, it would not be surprising to see the regional carrier, and the nation's fifth largest, to skip out on the device.
Price
Thanks to its large high-resolution display and bundled S Pen stylus, the Samsung Galaxy Note 3 is one of the most expensive smartphones on the market, commanding a $299.99 on-contract price tag through AT&T, U.S. Cellular and Verizon. Sprint offers it at $350 on-contract for those not bringing a new number and T-Mobile's variant is only available off-contract and at a lofty $703 full price. Other carriers offer it for $650 off-contract.
Of course, thanks to retailers like Amazon, the Galaxy Note 3 will see discounts off of those prices and we should see the device start to hover in and around the $200 to $250 mark by the time Black Friday rolls around. Android phones often see sharp price cuts in the months after their release so we should see the Galaxy Note 3 price tag begin to deteriorate as the launch buzz wears off.
Apple's iPad mini 2 is going to be more expensive up front than the Galaxy Note 3 and it should remain that way until its replaced by a new iPad mini 3. Apple's new iPad should check in at $330 for the smallest 16GB Wi-Fi only model, going all the way up to $660 for the 4G LTE 64GB model. Those prices do not require a contract.
The iPad mini 2 though won't see the same price cuts as the Galaxy Note 3. Apple products typically remain at their launch price throughout their life span which means that the Galaxy Note 3 should continue to get cheaper than the iPad mini 2 as time marches forward.

This article may contain affiliate links. Click here for more details.